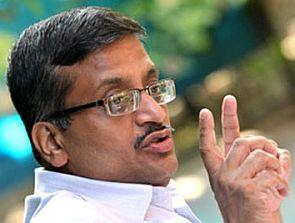 Cracking the whip on whistleblower IAS officer Ashok Khemka, the Haryana government has decided to charge sheet him for alleged administrative misconduct in cancelling the mutation of the land deal between Robert Vadra and real estate major DLF in Gurgaon.
Chief Secretary P K Chaudhery has compiled comments from the administrative branch and sent them to Chief Minister Bhupinder Singh Hooda, who has approved the action against Khemka for his decision on Vadra, son-in-law of Congress president Sonia Gandhi, officials said in New Delhi on Friday.
The 1991-batch IAS officer has been charge sheeted for penalty under Rule 8 of the All India Services (discipline and Appeal) rules, officials said.
Khemka told PTI that he is yet to receive the charge sheet and hence, cannot comment upon it.
The IAS officer has been held liable for alleged administrative misconduct for overstepping jurisdiction in passing orders to cancel the mutation of 3.5 acre land in Gurgaon's Shikohpur village. The land was sold by Vadra to DLF.
The IAS officer, after being transferred on October 11, 2012, from the post of Director General Consolidation of Holdings (DGH) and Inspector General Registration, had on October 12 and 15 last year ordered an inquiry into the alleged undervaluation of assets owned by Vadra or his companies in Gurgaon, Faridabad, Palwal and Mewat and set aside the mutation of the 3.5 acre land.
Khemka has also been held liable for public criticism of the actions and policies of the state government during the course of these developments.
The Haryana government's committee, set up to probe Khemka's orders, had later found these to be inappropriate and without jurisdiction.
The major penalties include reduction to a lower stage in the time scale of pay for a specific period, reduction to lower grade or post which shall ordinarily be a bar to promotion, compulsory retirement and removal from service which shall not be a disqualification for future employment under government, officials said.