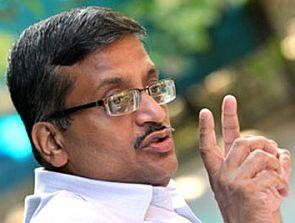 Haryana's Indian Administrative Service officer Ashok Khemka, who blew the lid on the deals between Robert Vadra and DLF, has accused the state government of victimising him and sitting over his performance appraisal report for the period 2012-2013.
In a letter to Haryana chief secretary S C Choudhary, Khemka, who had in March sought a central deputation, said the Centre had not included his name in the offer list because of 'missing Performance Appraisal Reports' for the years 2011-12 and 2012-13 and absence of vigilance clearance by the state government.
"It has come to my knowledge in an application made under the Right to Information Act that my PAR for the period -- 01.04.2012 to 15.10.2012, has not been appraised," the officer said in a letter yesterday. "This omission seems to be deliberate to victimise me because the reporting period coincided with actions taken by me against several land scams, including a massive corruption combining land-licensing and land-releases forcing landowner-farmers to undertake distress sale of their farmlands to the builder mafia," he alleged.
Khemka said, "Why should I be penalised for wilful omission of the accepting authority to perform his duties to appraise my PAR. Several letters were written to your office in this regard, but all were arbitrarily dumped. I should not be victimised further," Khemka, who has faced over 40 transfers in his career, said.
The officer added that he had received outstanding grading from 2007-08 to 2011-12 and since his performance had not been assessed for six months an average of the grades earned in previous years should be taken as the assessed grade of the PAR for the period, April 1, 2012 to October 15, 2012. He also alleged that there was tremendous witch-hunting and hounding after October 15, 2012 with full political patronage of the present ruling party at the state and the Centre.
When asked about the letter, the chief secretary told PTI that it had been written to him only yesterday and "after going through it, I will have the matter looked into".