A day after Ajit Pawar claimed leaders of other parties were behaving like spokespersons of the Nationalist Congress Party, Shiv Sena-Uddhav Balasaheb Thackeray leader Sanjay Raut said he listens (only) to NCP chief Sharad Pawar.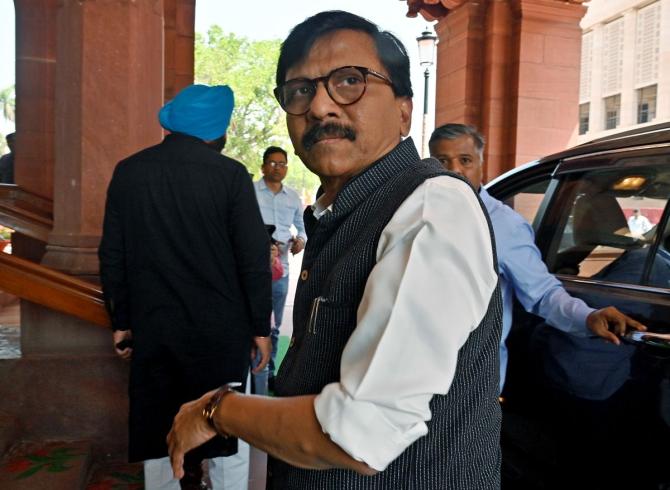 Talking to reporters on Wednesday, Raut also demanded that Chief Minister Eknath Shinde be booked for culpable homicide over the death of 14 people due to sunstroke following the Maharashtra Bhushan Award event in Kharghar.
Raut said what can he do if bitter truth hurts anyone , a reference to his weekly column Rokthok in his party mouthpiece Saamana in which he claimed Sharad Pawar recently told Uddhav Thackeray that his party would never join hands with the Bharatiya Janata Party even if anyone takes an individual decision to do so.
Senior NCP leader Ajit Pawar on Tuesday said he would work for his party till he is alive and scotched speculation that he and a group of MLAs loyal to him might align with the ruling BJP.
Ajit Pawar had also slammed Raut without taking the latter's name and said spokespersons of other parties were behaving like NCP's spokespersons.
The NCP leader had said he would raise this issue whenever there is a party meeting.
Raut on Wednesday said, "(Sharad) Pawar saheb can raise questions on my credibility. I listen (only) to Pawar saheb."
He said when Shiv Sena split, all the key leaders, be it Sharad Pawar, Ajit Pawar or Nana Patole, expressed concern over it.
The BJP has gone on backfoot after his column in Saamana, he claimed.
The Rajya Sabha member asked what wrong had he written in the Marathi daily.
"Ajit dada should say whether attempts are being made to break the opposition (parties). Did they not break Shiv Sena? Are attempts not being made to break the NCP?" he asked.
"Sharad Pawar saheb is himself saying this. Sharad Pawar has written a letter regarding this to Prime Minister Narendra Modi and Union Home Minister Amit Shah," Raut claimed.
"If I keep information of all this, then what is wrong in it?" he asked.
On deaths due to sunstroke following the Kharghar event on Sunday, Raut accused Chief Minister Shinde of hiding the figures of fatalities and pressuring the police and administration not to reveal the (correct) numbers.
Fourteen people have died and the locals claim that the figure is 20, Raut said.
The chief minister should be booked for culpable homicide, he added.