Senior Nationalist Congress Party leader Ajit Pawar on Tuesday said he would work for his party till he is alive and scotched speculation that he and a group of MLAs loyal to him might align with the ruling Bharatiya Janta Party.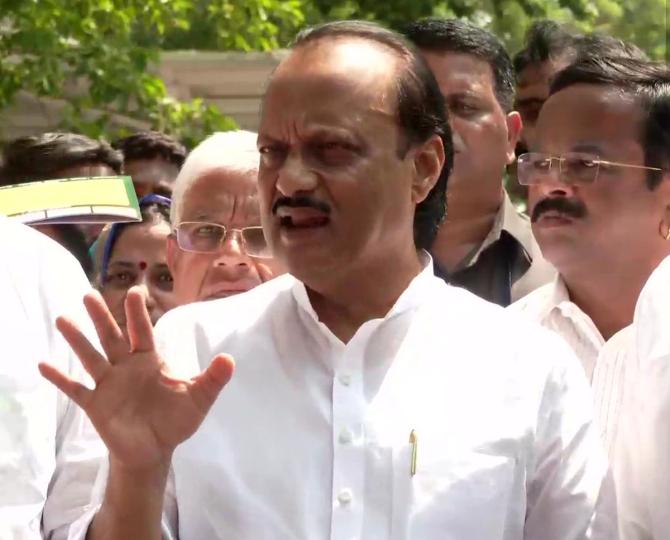 Talking to reporters in Mumbai, the leader of the opposition in the Maharashtra assembly said there was no truth in reports about any rift in the NCP and his joining hands with the BJP.
Pawar dismissed reports that he had taken the signatures of 40 of 53 MLAs of NCP amid a buzz about his rumoured alliance with the BJP.
He said such unfounded reports hurt party workers and create confusion among them.
"We (party MLAs) are all with the NCP. I will work for the NCP till I live," Pawar added.
He said the NCP has decided to strengthen the Maha Vikas Aghadi (MVA) and the coalition has planned several rallies that target the Centre and the Maharashtra government over various issues.
The MVA comprises Shiv Sena (Uddhav Balasaheb Thackeray), NCP, and Congress.
Responding to a query, Pawar said no signatures of (NCP) MLAs were taken.
"We are working as a family and will continue to do that," he added.
Rumours about Ajit Pawar's next political move started doing rounds last week when he suddenly cancelled his scheduled meetings and also made comments which were seen as being soft on the BJP and Chief Minister Eknath Shinde's camp. The BJP is part of the Shinde government.
Shiv Sena (UBT) leader Sanjay Raut on Sunday added grist to the rumour mill claiming Sharad Pawar recently told Uddhav Thackeray that his party will never join hands with the BJP even if anyone takes an individual decision to do so.
Ajit Pawar slammed Raut without taking the latter's name on Tuesday and said spokespersons of other parties are behaving like spokespersons of NCP. The NCP leader said he would raise this issue whenever there is a party meeting.
"No one knows who has given them this right. You speak about the party of which you are a spokesperson. You speak about your party's mouthpiece. We are very capable of making our stand clear.
"There is no reason to take our brief. They can put forth respective (party's) views. Our party's spokespersons, leaders at the state, as well as the national level, are capable of explaining the party's stand," he added.
When Maharashtra was under President's rule after the results of the 2019 assembly polls were out and Shiv Sena (undivided) severed ties with ally BJP, Ajit Pawar secretly joined hands with Devendra Fadnavis and a government was formed with Fadnavis as the chief minister and the NCP leader as his deputy. However, that government lasted for just 80 hours after Ajit Pawar resigned.
After the Shiv Sena joined hands with the NCP and Congress to form a coalition government in November 2019, Ajit Pawar took oath as the deputy chief minister and handled the finance portfolio.