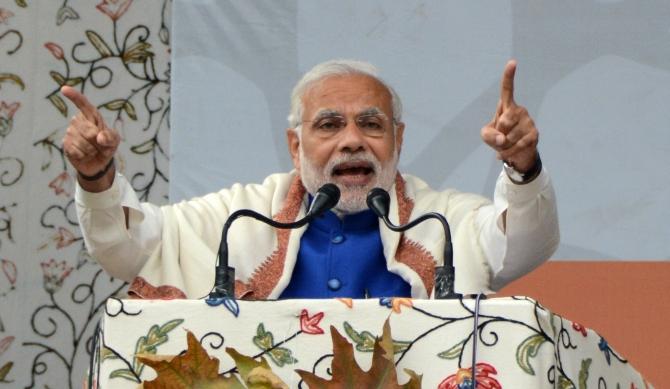 Invoking former prime minister Atal Bihari Vajpayee's mantra for development, Prime Minister Narendra Modi on Saturday announced a package of Rs 80,000 crore for Jammu and Kashmir and pledged to transform it into a new, modern, progressive and prosperous state for which there will no dearth of money.
Recalling the words of Vajpayee -- "Kashmiriyat, Jamhooriyat aur Insaniyat' (social consciousness and cultural values of the Kashmiri people, democracy, and humanity), he said, "I will like to follow these three mantras which are the pillars of development of Kashmir".
"I don't need advice or analysis from anyone in this world on Kashmir. The three mantras of Atal jee and these will be helpful in moving forward. Kashmiriyat ke bina Hindustan
adhura hai. (Without Kashmiriyat, India is incomplete). Sufi tradition has emerged from this land and this tradition has taught us oneness and strength of unity," he said.
In his second public rally in Kashmir after becoming the Prime Minister, Modi announced the package and said that this is not a full stop as "our hearts are also open for you"
"The Centre announces Rs 80,000 crore package to the state. It's my heart-felt desire that this money will be helpful in turning your fate. This money should be used for converting the state into a new Jammu and Kashmir which is modern, prosperous and progressive state.
"This is not a full stop. This Rs 80,000 crore is not a full stop. It's rather a beginning...Dilli ka khazana aap ke liye hai, Dilli ka khazana hee nahi, dil bhi aap ke liye hazir hai (The treasury is for you. Not only our treasury, but our heart also beats for you)," said Modi, who was flanked by Chief Minister Mufti Mohammed Sayeed, Union Minister Nitin Gadkari and Jitendra Singh and PDP President Mehbooba Mufti.
"The dreams of two generations have been lost in last two decades. But I am an optimist and would like to move ahead and covert Jammu and Kashmir into a modern and developed state," he said addressing the rally at Sher-e-Kashmir cricket stadium.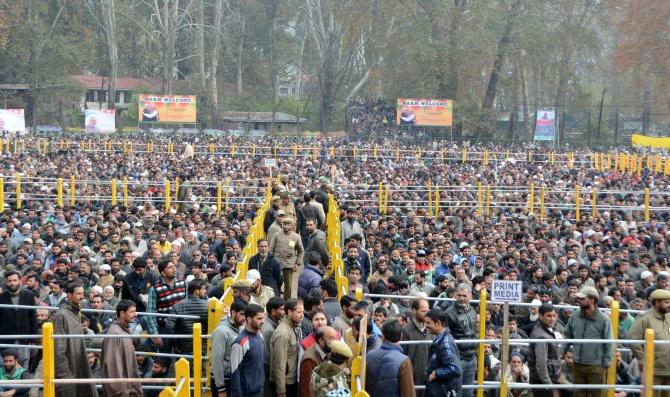 The prime minister said that the youth of the state needed employment and assured the Mufti Sayeed-led Peoples Democratic Party-Bharatiya Janata Party alliance that the Centre was standing rock solid behind it in its endeavour to restore normalcy in the state.
"We may touch any heights in economy and technology. And no matter how much the life changes, we may even build a castle in the air, but it is only our soul that inspires us to respect the dignity of self and others," he said.
Modi said that the people of Jammu and Kashmir have shown their faith in democracy (Jamhooriya). "There was massive participation in Lok Sabha and assembly elections. Today Mufti sahib is talking about empowering panchayats. This is the democracy that Atalji wanted and dreamt of. I salute you," he added.
The prime minister said India is incomplete without Kashmiriyat which is the "shaan, baan, aan" (pride and glory) of India.
He said he has a development sketch in his mind for Jammu and Kashmir based on the interactions with the leaders of the state including the chief minister and his deputy Nirmal Singh.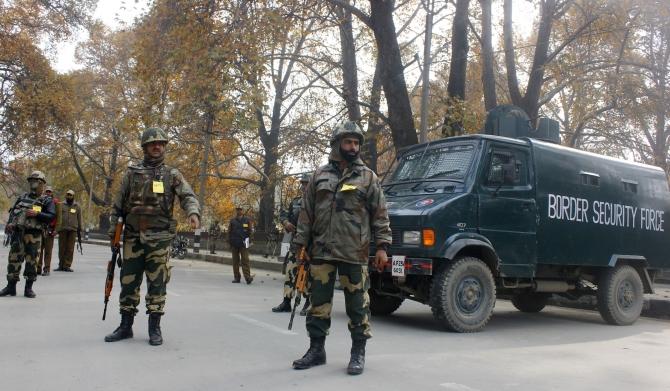 "The development process has to be implemented within a set timeframe. We want to help the farmers, the traders and people whose houses were damaged by the floods last year. We want to bring out every family from their problems. Delhi (the Centre) will work shoulder to shoulder with the state government in this regard," he said.
Modi said unemployment was the biggest challenge facing the state and a solution to this problem will resolve every other problem in the state.
He said the focus of the government is on reviving tourism and promoting handicrafts and other cash crops like apple and saffron of the state.
More than 1.75 crore Indians travel abroad for tourism. Can we make efforts to get only 5 per cent of this number to Kashmir, which will change the tourism scenario and bring back the old days of peace and tranquility," he said.
The prime minister said the state had potential for adventure tourism, eco tourism and leisure tourism to attract visitors from across the world. Giving an example of harnessing the local expertise, Modi said cricketers like Sachin Tendulkar, Yuvraj Singh, Virender Sehwag and Dhoni might have hit many sixes but the bats they used were made from the willow of Kashmir.
"This is strength which we need to harness. We want a development model which provides livelihood opportunities to the youth," he said.
Modi also laid emphasis on use of information and digital technology for improving the lot of the people. "We have to explore who to use the I-way, the information way, and digital network to connect the people of Kashmir. As part of skill development, we have to look at how to improve the quality of handicrafts and their designs too, besides finding global markets for these products," he added.
Modi said there was no reason that Kashmiri cannot emerge from its troubled past as "I believe that crisis, however deep it might be, can be over come with determination".
"Kashmir has seen a lot of crisis over the past 20 years. Dreams of two generations have been shattered. I have set out to make Kashmir paradise on earth again, to make it prosperous. I have belief in Mufti sahib.... I have belief in you. Otherwise, we would not see such an atmosphere (at the rally)," he added.
Turning his focus on infrastructure development, the prime minister said his government wants to develop the sector.
"Today it takes nine to 11 hours to travel from Jammu to Srinagar, which can put off the tourists. We are spending Rs 34,000 crore on Jammu-Srinagar road which will reduce the travel time significantly as the distance will be less by 70 kilometres due to construction of tunnels," he said.
He said this project will be completed within two-and-a-half years. On the human resources, he said the youth of state have excelled in the competitive exams such as the Indian Administrative Service, the Indian Police service, the Indian Institute of Technology and the Indian Institute of Management over the past few years which is indicative of the strength of the state.
"I have recognised this talent of Kashmir and when I recognise the talent, I do everything that is needed to be done," he said. The prime minister also pitched for resumption of international cricket in Kashmir saying if a player such as Parvez Rasool is making progress, then international matches should also return.
"It has been 30 years since an international match was played here," he said referring the Sher-e-Kashmir Cricket stadium, where the last one day international was played between India and Australia in 1986.
All photographs: Umar Ganie