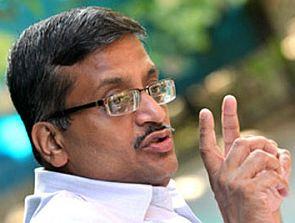 Defending his action in the controversial land deal in Gurgaon involving Sonia Gandhi's son-in-law Robert Vadra, Haryana IAS officer Ashok Khemka has said morality demands one starts at the top and that requires guts and courage.
"If you have to take action, the morality should start from the top, right at the top. It is very easy to take action with the people who are downtrodden, but it takes courage and guts to call a bluff a bluff when it happens at the top," he told Karan Thapar in CNN-IBN's Devil's Advocate programme.
He was asked whether he did it because he knew that he was targeting the Congress President's son-in-law and that would make his career.
Khemka, who had cancelled the land deal mutation between Vadra and real estate giant DLF Universal Ltd last October, however, admitted that a criminal investigation was required to establish the truth.
He said that the charge he made that the purchase of 3.5 acres of land by Skylight Hospitality in Shikorpur village in Gurgaon in February 2008 was a "sham sale", was based on an "inference" which needs to be further proven by "criminal investigation."
Asked whether he has acted in haste or out of vendetta, Khemka responded, saying, "Please hold another inquiry and if I am wrong you can pillory me. But you cannot pillory me because in favour of an accused and in favour of a person who has acted dutifully."
Khemka has alleged that Vadra "falsified documents" for 3.53 acres of land in Gurgaon and "pocketed" large premium on a commercial colony licence.
In his "voluminous reply" submitted to Haryana government's three-member inquiry committee set up in October last to look into the deal, he is understood to have alleged that Vadra executed a series of "sham transactions" for it.
"The evidence is contained in the report itself and let us not elaborate on the evidence here in the show, but the cheque prima facie does not belong to the company and that requires a greater criminal investigation and if the charge is held to be true, let the criminal court decide upon that matter," Khemka told Thapar.
On his claim that Skylight Hospitality when it applied for a commercial licence for the deal either suppressed or did not reveal the full facts, the IAS officer said he accepted that one of the documents submitted by along with the application was part of the agreement.
Khemka said the information given was in the wrong format. "You are to apply in the prescribed proforma, you cannot tell the authorities that you fish out the information."
To a question that he cancelled the land mutation when he was not entitled to take action as he had already been transferred, he justified his action, saying he was fully authorised to do so.
Khemka, who was Director General, Land Consolidation, was transferred on October 11, last year and land mutation was cancelled on October 15.

"I relinquished my charge on October 15 and I had all the right to function as such till October 15," he said.

About the convention that an officer not should act after his transfer unless there is an emergency, Khemka said that in the intervening period between the transfer and relinquishing of charge, one can continue to discharge his duty.

He also said that DLF or Vadra's companies could have approached the high court for setting aside his order.