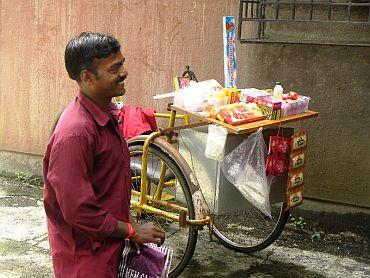 We have just celebrated the festival of lights. But Diwali is not the best time of the year for everyone. Amongst all the prosperous festivities there are some who are not so privileged to be the torch bearers.
They have a hard time just to gather a day's meal let alone invest in decorations around the house. But some even in these hard times don't fail to find a way to spread joy and happiness.
Jagdish Pawar is handicapped, alone and still smiling. His father, Jairam Pawar had limited earning resources. Due to continuous family ignorance and financial crises, Jagdish couldn't get good education. His legs had to be amputed due to gangrene.
While staying in Malad, a Mumbai suburb, he was rejected by his relatives because of his disability. The unexpected orthopaedic handicap faded the dreams of young Jagdish. However, his determination never faded.
With the help of the Indian Development Foundation, a non government organisation, Jagdish was introduced to Ramgarh Re-integration Centre, a rehabilitation centre for the physically challenged people in Jaipur.
During his association with the centre, Jagdish got trained in many handicraft works which helped in building his confidence considerably.
He learnt various crafts like making incense sticks, perfumes etc.  He was already aware of making candles while at Mumbai which added greater strength to his further training.
Post the training; IDF supported him with seed-money to start his business in Mumbai. He utilised the money efficiently and innovatively. He creatively converted his tricycle into a colourful one-stop shop for spiritual items. 
Jagdish sells incense sticks, candles, vermillion and much more. He visits different temples on different days depending upon the demand.
He tries to make other people's Diwali and other festivals more colourful and spiritual.  His hardships have shown him the path of righteousness.
As told to Tasneem Akolawala and Charu Bhatnagar -- Students from SIMC Pune doing social internship with Indian Development Foundation.
Image: Jagdish Pawar in his one-stop shop in Mumbai