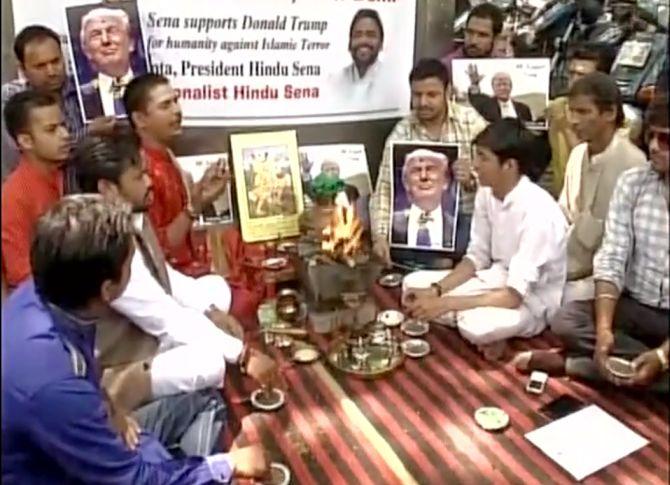 Presumptive Republican nominee Donald Trump, who is seen as a staunch opposer of growing Islamic radicalism across the world, has now found support from the right-wing group Hindu Sena, which held prayers in New Delhi on Wednesday for his victory in the United States presidential elections to be held later this year.
A priest chanted hymns and members of the Hindu Sena made offerings to fire, as they sat holding posters of Trump, with 'We love Trump' written in bold letters.
President of the Hindu Sena Vishnu Gupta said Trump was the only 'saviour of mankind'.
"The entire world is suffering due to Islamic terrorism. All these bomb blasts across the world are linked to Islamic terrorism. There is only one saviour of mankind and that is Donald Trump. We have done Yagya today and prayed to god that people of the US elect Trump as their President," Gupta said.
Gupta also said that Prime Minister Narendra Modi 'disappointed' him by recently claiming at the first World Sufi Forum that Islam has no connection with terrorism
The Hindu Sena's move triggered swift reaction from the international media.
The New York Times wrote, 'Donald Trump may find it tough to get Republican leaders behind his campaign, but he's got some faraway fans trying to get the gods on his side.'
TIME said, 'Trump's apparent disdain for the people of the world's second most populous nation doesn't seem to faze a right-wing Indian group that is now praying -- yes, literally praying -- for Trump's victory.'
Trump has won both supporters and detractors for his blunt talk and hardline proposals, including a proposed ban on Muslims entering the US.
The billionaire real estate developer has positioned himself as the answer to growing Islamic radicalism across the world.
The Hindu Sena came into the limelight last year when Gupta complained to the Delhi police that Kerala House serves cow meat and it was subsequently raided by the police, sparking strong reactions.
Image: Hindu Sena members hold a 'yagna', praying for the victory of Republican presumptive nominee Donald Trump in US Presidential elections at Jantar Mantar in New Delhi. Photograph: ANI