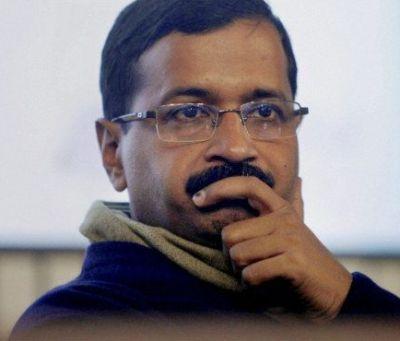 Calling him a "rotten fish", Chief Minister Arvind Kejriwal on Thursday said Sandeep Kumar was removed from the Delhi Cabinet as he "betrayed" Aam Aadmi Party's principles, even as the legislator played the Dalit card to defend himself.
In a video message, Kejriwal positioned AAP as a party with a "difference" and attacked the BJP and Congress for "shielding" top leaders accused of corruption. He also took a "Bangalore girl" swipe at the Prime Minister and BJP chief Amit Shah.
A day after he announced Kumar's sacking on Twitter, Kejriwal asserted that he will prefer to die or dissolve the party rather than compromise with the AAP's principles, while adding the same rule will apply to himself and all other senior leaders.
His image tarnished over the allegations, Kumar alleged that he was being targeted as part of a "conspiracy" as he was a dalit and went on to demand a probe into the matter questioning the authenticity of the CD.
Kejriwal said although the turn of events and the fact that "such rotten fishes" were in the party "saddened" him, he takes "pride" from the fact that AAP did not attempt to "cover up" the transgressions.
"Sandeep Kumar betrayed the party, he betrayed the AAP movement and the trust people across the country have reposed on AAP. We will never ever compromise on our core values. We will prefer to die, close the party or perish than tolerating wrongdoings," he said.
Admitting that the case may sully the party's image in people's minds, Kejriwal said what sets AAP apart from other parties was that it does not dither to take prompt action, which comes out from the fact that as many as "four people" have been summarily suspended.
In a sudden move, Kumar, who held the Women and Child Welfare and Social Welfare portfolios, was sacked from the council of ministers yesterday by Kejriwal after he received a nine-minute-long CD in which Kumar was purportedly shown in a compromising position with a woman.
Kumar, however, insisted that he had resigned on moral grounds.
"Someone is saying the video is two months old and others are saying it is three months old. There is no authentication Dalits have been exploited always. I belong to a poor family, so I know the facts are distorted. I have been framed because I am a Dalit," he said.
Rebutting BJP's criticism, Kejriwal asked the party what action it had taken against allegations of wrongdoings against Madhya Pradesh Chief Minister Shivraj Singh Chouhan, Rajasthan Chief Minister Vasundhara Raje and former Gujarat Chief Minister Anandiben Patel.
"Vijender ji (Leader of Opposition in Delhi Assembly), pl ask modi ji- who was the Bangalore girl? Why did he ask Amit Shah to snoop on her?" the AAP chief tweeted.
He also attacked Congress and wondered "why the party shied away from taking action against its Punjab Chief Amarinder Singh when it was found that his family has Swiss bank accounts", adding that Akali Dal too is "saving" Majithia who is in drug business.
One Om Prakash, who claims to be the "whistleblower" in the case, said the CD containing the objectionable clips was submitted to the government 15 days back and recently to the Lt Governor's office.
"The person who had the CD to me had approached the Chief Minister with it almost fifteen days ago but no action was taken. But when it was brought to the LG office's notice, Kumar was sacked," Prakash said.
The Delhi government has rejected Prakash's claims. Congress also disassociated any link with him after he claimed to be its member.