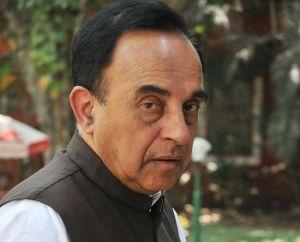 The Delhi high court on issued notice to BJP leader Subramanian Swamy on a batch of petitions filed by Congress President Sonia Gandhi and others in the case of alleged cheating and misappropriation of funds in acquiring ownership of the now-defunct daily National Herald.
A bench of Justice V P Vaish has fixed the petitions for hearing at 2.30 pm on August 5.
Former law minister and senior advocate Kapil Sibal, appearing for Sonia Gandhi, sought a stay on the proceedings pending in the trial court.
"The matter is listed on August 7 before the trial court. I will pass an order before that," Justice Vaish said.
During the brief hearing, Swamy alleged that the petitions have been filed without him being served with copies of petitions.
Besides Sibal, a battery of senior lawyers including A M Singhvi, Haren Raval and Ramesh Gupta appeared on behalf of accused Congress leaders.
The Congress leaders have challenged the lower court's orders summoning them on a complaint by Swamy alleging cheating and misappropriation of funds in the acquisition of the daily by Young Indian.
Besides Sonia Gandhi, Congress Vice President Rahul Gandhi, Party Treasurer Moti Lal Vora are among the directors of Young India which was recently given almost 99 per cent ordinary shares of the Associated Journals Limited. AJL had been publishing newspapers 'National Herald' in English, 'Navjivan' in Hindi and 'Quami Awaz' in Urdu.
They have sought interim stay on the summons issued by the trial court on June 26.
Sonia Gandhi has also sought setting aside of the compliant itself saying it was "politically motivated and intended to wreak vengeance and unleash political vendetta" against her.
The trial court on June 26 had summoned Sonia, Rahul, Vora, party General Secretary Oscar Fernandes, Suman Dubey and Sam Pitroda to appear before it on August 7.
While summoning the six as accused in the case, the trial court had held that Swamy has established a prima facie case of cheating, misappropriation of funds and criminal breach of trust against them.
Swamy had accused Sonia and Rahul Gandhi and others of conspiring to cheat and misappropriate funds by just paying Rs 50 lakh by which YI obtained the right to recover Rs 90.25 crore which the AJL had owed to the Congress party.
The accused persons were summoned under sections 403 (dishonest misappropriation of property, 406 (criminal breach of trust) and 420 (cheating) read with section 120B (criminal conspiracy) of the IPC.
"Set aside the order dated June 26, 2014, passed by the Metropolitan Magistrate-02, Patiala House Courts, New Delhi and set aside/quash the criminal complaint filed by respondent 2 (Swamy) pending before Metropolitan Magistrate-02, Patiala House Courts, New Delhi in so far as it relates to the present petitioners," Vora's petition said.
Sonia Gandhi, in her plea, has said the basic ingredients of alleged offences have not been fulfilled and hence, the trial court order deserved to be set aside.
Dealing with the offence of 'dishonest misappropriation of property', the plea said, "It is submitted that that a bare reading of the complaint and the pre summoning evidence does not disclose that the petitioner (Sonia) had 'appropriated' any movable property or 'converted' any property to her own use.
"This ingredient is completely missing even if the allegations averred in the complaint are taken on its face value."
"...The further ingredients that such misappropriation, conversion, use of disposal should be in violation of any law or contract is also absent. There is nothing in the complaint or pre-summoning evidence even remotely to suggest that the petitioner made a false or misleading representation or dishonestly induced any person to deliver any property," it said.
Sonia also said that Swamy, in November 2012, had moved the Election Commission which in 2013 dismissed his complaint.