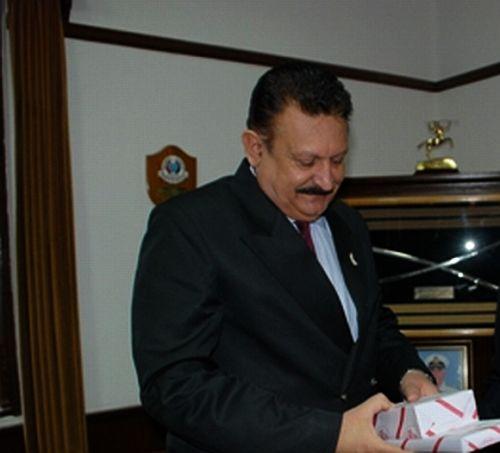 The Central Bureau of Investigation on Tuesday filed its chargesheet against Lt Gen (retd) Tejinder Singh for allegedly offering a bribe of Rs 14 crore to the then Army Chief V K Singh, who is now a Union minister, in connection with the Tatra truck deal.
The chargesheet filed under section 12 of Prevention of Corruption Act named the retired Lieutenant General for having allegedly offered the bribe on behalf of Tatra trucks suppliers who provided the all terrain vehicles to the Indian army.
Section 12 of the act deals with the offence of offering bribe to a public servant.
After a thorough investigation, CBI filed a chargesheet on Tuesday against a retired Lieutenant General in the Court of Special Judge, Patiala house courts, in an alleged offer of bribe on behalf a private supplier to the then chief of army staff, a CBI spokesperson said.
CBI sources said the chargesheet was based purely on circumstantial evidence which includes Tejinder Singh's meeting with the then Army chief and putting on hold the order for supply of trucks from Tatra.
Expressing surprise over the move, Tejinder Singh said last year there were dozens of media reports which stated that no evidence was found in the case and that it was heading for a closure.
These media reports were obviously based from information from the CBI, he claimed.
"My interaction with the agency clearly indicated that there was no credible evidence found.
"Now with the change of government, there seems to be a change of heart in the probe agency and therefore the filing of chargesheet is abuse of power by the people concerned and politically motivated," Tejinder Singh told PTI in his reaction to the CBI chargesheet.
A case was registered against Tejinder Singh on October 19, 2012 following a complaint by Gen V K Singh, who is at present Minister of State of External Affairs and Minister of State incharge of Department of Northeast Region.
The then army chief had alleged that Tejinder Singh had offered him a bribe of Rs 14 crores on September 22, 2010 on behalf of Tatra truck supplier for clearing file for procurement of 1,676 Tatra HMVs (High Mobility Vehicles) for the Indian army.
The CBI during its probe also recorded the statement of the then Defence Minister A K Antony who corroborated that the army chief had come to his office and informed him that Lt Gen (retd) Singh had made a bribe offer.
As a corroborative evidence in its charge sheet, the CBI has mentioned the orders of the then Army Chief to his staff that Lt Gen (retd) Singh should not be given any appointment in future, the sources said.
The recording which purportedly contained conversation between the then Army Chief and Lt Gen (retd) Singh was of no help as the compact disc sent to the CBI by Gen (retd) Singh had no voice recorded on it.
Image: Lt Gen (retd) Tejinder Singh