The four accused in the alleged gang rape case of Hathras have written a letter to the superintendent of police (SP), claiming that they are innocent and have been falsely implicated in the matter.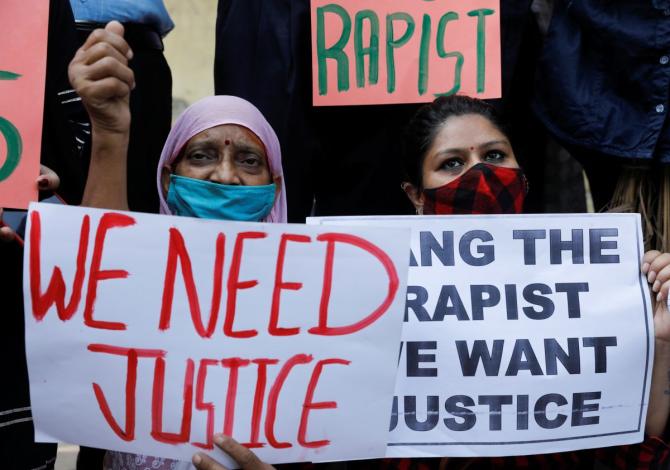 The letter written from the Aligarh district jail, where the four are currently lodged, has gone viral on social media.
In the letter, the main accused, Sandeep, has also stated that he was friends with the alleged gang rape victim, due to which her mother and brother had thrashed the 19-year-old Dalit woman, leading to serious injuries that resulted in her death.
He further stated that he also used to talk with the girl over the phone, which the girl's family did not approve of.
'On the day of the incident I met her in the fields, she was accompanied by her mother and brother. Upon her telling me I returned to my house and started giving water to the animals along with my father.
'Later on, I got to know from the villagers that her mother and brother have beaten her due to her friendship with me, due to which she received serious injuries, leading to her death,' the letter, written in Hindi, read.
'I have never beaten or indulged in any kind of wrong acts with the victim. Her mother and brother framed me and three others in false charges and sent us to jail. We are innocent, please conduct an investigation in this matter to ensure we get justice,' it added.
The letter states that the four accused had been framed on the basis of 'false claims' of indulging in sexual acts and then manhandling the girl, leading to her death.
Hathras SP Vineet Jaiswal has confirmed receiving the letter.
"The four accused had given the letter to the Aligarh district jail superintendent and he sent it to me.
"I have received the letter and action, in accordance with law, would be taken," he said.
Besides the thumb impressions of the four accused in the case -- Sandeep, Luv Kush, Ravi and Ramu alias Ramkumar -- the letter dated October 7 also has their names mentioned in it.
It is addressed to the Hathras SP and has been written on behalf of the main accused, Sandeep.
The accused have claimed innocence and urged the SP to get the matter probed and ensure justice to them.
The 19-year-old alleged gang rape victim died in a Delhi hospital.
-- with inputs from ANI