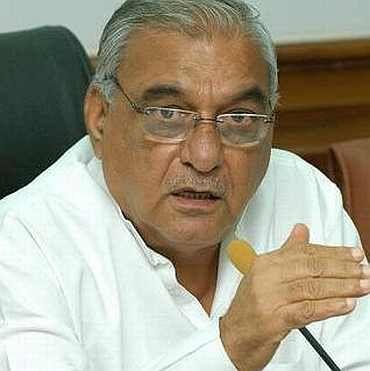 Punjab Chief Minister Parkash Singh Badal who was under fire from Bharatiya Janata Party leaders after the Shiromani Akali Dal leadership, including Deputy Chief Minister Sukhbir Badal campaigned against the saffron party nominees during the assembly elections attended the oath-taking ceremony of Manohar Lal Khattar in Panchkula on Sunday.
Also Om Parkash Chautala-led Indian National Lok Dal, which was the principal opposition, besides Congress to the BJP was also represented by Abhay Chautala.
Besides Badal and Chautala, Union Minister Ram Vilas Paswan was among the non-BJP leaders who attended the swearing-in function of Khattar.
Outgoing Haryana chief minister Bhupinder Singh Hooda, however, did not attend the function saying he had not received an invite. "I did not get the invite. Had I got one, I would have thought over it (whether to attend or not)," Hooda said.
86-year-old Badal, the five-time Punjab CM, was among the top dignitaries who arrived at the function venue at Sector 5 HUDA ground early. Khattar took oath as Haryana Chief Minister at 11:20 am.
However, Abhay Chautala, the senior leader of the INLD, arrived late at the venue after all dignitaries including Prime Minister Narendra Modi had arrived and were seated on the dais and the national anthem was in progress.
Abhay was stopped by the security personnel for a brief period as the national anthem was playing. However, later on he was allowed to proceed on to the stage, but not from the side from where all VVIPs had walked in.
The state got its first BJP led government headed by first time MLA Manohar Lal Khattar who was sworn in by Governor Kaptan Singh Solanki with nine member council of ministers.
Prime Minister Modi, veteran BJP leaders L K Advani and Murli Manohar Joshi, BJP President Amit Shah, Chief Ministers of four BJP ruled states - Gujarat, Madhya Pradesh, Chhattisgarh and Rajasthan, were among those present.
At the end of the function, Khattar exchanged pleasantries with the dignitaries and touched Advani's feet to seek his blessings.