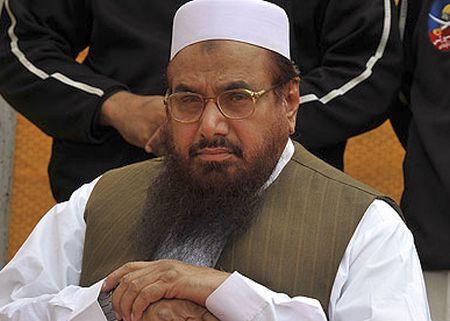 Mumbai terror attack mastermind Hafiz Saeed has taken the responsibility of attack on a General Reserve Engineer Force camp in Jammu and Kashmir's Akhnoor, describing it as a 'real surgical strike'.
"Four young men, day before yesterday in the evening, entered the camp at Akhnoor, Jammu. I am talking about something recent, it's not an old event, it happened two days ago," Saeed is heard saying in the audio tape, reported Hindustan Times.
"They entered the army camp, the young men say they cleaned up 10 camps of Indian troops and all four of them returned safe and secure, they were not harmed. This is real surgical strike," he said.
Three civilians working as labourers were killed on Monday, January 9, in a pre-dawn terror attack by militants on the camp near the Line of Control.
Saeed said that the attack was a fitting reply to Prime Minister Narendra Modi and surgical strikes carried out by Indian special forces in retaliation for a terror attack on an army in Uri last September.
"Modi also talked about a surgical strike, I had replied to Modi. Nawaz Sharif doesn't reply to Modi, I reply to Modi, by the grace of God. And he (Modi) only accepts my reply, not the reply of anyone else," he said in the tape running little more than two minutes.
Calling the surgical strikes a drama, Saeed claimed that terrorists killed 30 Indian soldiers.
"I said Modi you made a false claim, Indian troops are being dropped by helicopter and they ran a movie. They are very good at making magnificent movies. Movies are one thing, fighting is another, so they ran a movie about carrying out surgical strikes, we crossed the border and killed 40 jawans of Lashkar-e-Taiba and went back. This was a drama, a film made to fool the world."
"But you have given an opportunity and the mujahideen will tell you what is a surgical strike…I am telling you about the strike carried out two days ago, in a place like Jammu where they say nobody dares to enter. Four mujahid entered the camp, cleaned up 10 rooms and killed 30 soldiers. They destroyed the camp, burnt it and all four came back safely," Saeed added.