Following the victory of the Bharatiya Janata Party in Gujarat and Himachal Pradesh, reactions poured in from various leaders across the political spectrum.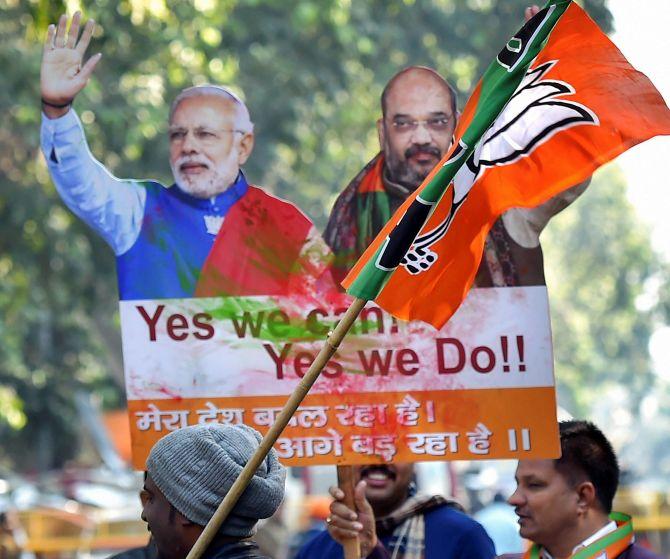 "The BJP would win the 2019 Lok Sabha poll with a strong majority, and the people would help realise Prime Minister Narendra Modi's dream of a 'New India' by 2022.."
-- Amit Shah, BJP president
"We have fought these elections with honesty. Whatever be the result of the elections, the victory is said to be of the Congress."
-- Ashok Gehlot, Congress' Gujarat in-charge
"Congress has done brilliantly. Our strength has increased. Morally, it has been a brilliant intervention of Rahul Gandhi."
-- Renuka Chowdary, Congress
"We may not have reached the destination, but our journey was good."
-- Shashi Tharoor, Congress
"Development is the mantra of today's polity. And therefore people are with Modiji."
-- Prakash Javadekar, HRD minister
"This is a vote for development and trust for Narendra Modi."
-- Jitendra Singh, MoS PMO
"We may have lost one front by a whisker, but not the war, as we won the hearts of 6.5 crore people of Gujarat."
-- Randeep S Surjewala, Congress leader
"Gujarat and Himachal Pradesh results are a lesson to those who forget political courtesy and indulge in unparliamentary language. Those raising question mark on the prime minister will now have to accept his leadership. We, on behalf of the people of UP congratulate Modiji and Amit Shahji. It's victory of economic reforms. Modi's leadership has established country economically. Those who raised questions on Gujarat model should now look at the results. It's victory of policies of Modiji."
-- Yogi Adityanath, Uttar Pradesh chief minister
"The BJP came up with the politics of vishwas (trust) and vikas (development) for Gujarat and people responded to it positively. The Opposition tried to spread wrong messages against us, but we prevailed because of the leadership of Prime Minister Narendra Modi and national president Amit Shah."
-- Devendra Fadnavis, Maharashtra chief minister
"It is a matter of happiness for us, this is the victory of development. Jo jeeta wohi sikandar."
-- Smriti Irani, Informationa and broadcasting minister
"I congratulate Gujarat voters for their very balanced verdict at this hour. It is a temporary and face-saving win, but it shows a moral defeat for BJP. Gujarat voted against atrocities, anxiety and injustice caused to the common people. Gujarat belled the cat for 2019."
-- Mamata Banerjee, West Bengal CM
"Congratulations to honourable Prime Minister Narendra Modi and the Bharatiya Janata Party for the victory in the Gujarat and Himachal Pradesh Assembly elections. The Congress, which had claimed it would wrest power from the BJP in Gujarat, has ended up losing even Himachal Pradesh."
-- Nitish Kumar, Bihar CM
Image: Party workers celebrate BJP's victory in the elections outside the BJP headquarters in New Delhi. Photograph: Kamal Kishore/PTI