Taking the opportunity to close the gender gap in the profession, three young women -- one the first graduate in a family, another a graduate and the third a postgraduate -- have chosen to take up the sacred vocation of priest in a Hindu temple.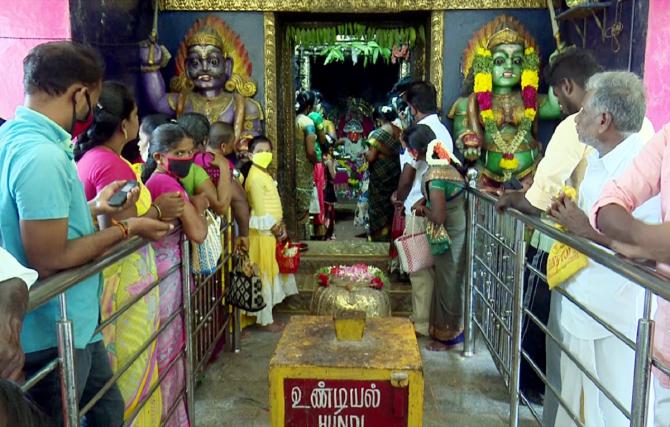 The salary is meagre but that does not seem to be an issue for these pious young women who say god will provide for their needs.
"I was working in a private firm in Chennai and gave up the job after my friend brought to my notice the state government's announcement on training women from all castes to become temple priests," says N Ranjitha, a BSc Visual Communications graduate.
"I found it important to serve god and hence the decision to become a priest," Ranjitha told PTI. Her parents from Needamangalam in Tiruvarur district are farmers and she is the first graduate in her family, she said.
Like her, S Ramya, a postgraduate in Mathematics, and S Krishnaveni, a graduate in Mathematics, decided to dedicate their lives to temple service.
The three were among the 98 archakas -- the other 95 being men -- who successfully completed a one-year course organised by the Tamil Nadu Hindu Religious and Charitable Endowments (HR&CE) department.
The training was challenging initially but their teacher Sundar Bhattar taught them well, Ranjitha said.
They newly ordained women are to be posted as assistant priests in Vaishnavaite temples under the ambit of the HR & CE department to undergo training for a year, after which they will be given permanent positions.
According to Krishnaveni, both her father and grandfather served at the Mariamman temple in their village in Tittakudi in Cuddalore district. "Neither I nor others are worried about the salary since we trust that the Lord will provide for us," she said.
All of them were initiated into priesthood from the Mannargudi Sendalangara Jeeyar during the sixth month of their training. They have been trained in Pancharatra agama, the Vaishnavaite tradition of worship, during their time at the Archakar Training School run by the Sri Ranganathar Temple in Srirangam.
Like the rest of the trainees, they too were provided a monthly stipend of Rs 3,000.
Ramya, also from Tittakudi, hopes to take up the new role in a major temple so that she can get an opportunity to learn more and gain good exposure as well.
All the 98 archakas and four odhuvars (who recite devotional hymns in temples) received their certificates from HR & CE Minister P K Sekar Babu at a function held in Chennai recently.