'When I applied for the job of santhi, I applied as a person who was eligible.'
'When I joined the temple at the age of 21, it was because I got the 4th rank in the list.'
'Now, everybody is talking only about my caste. I am above all that; it doesn't matter to me and to the people with whom I am associated with.'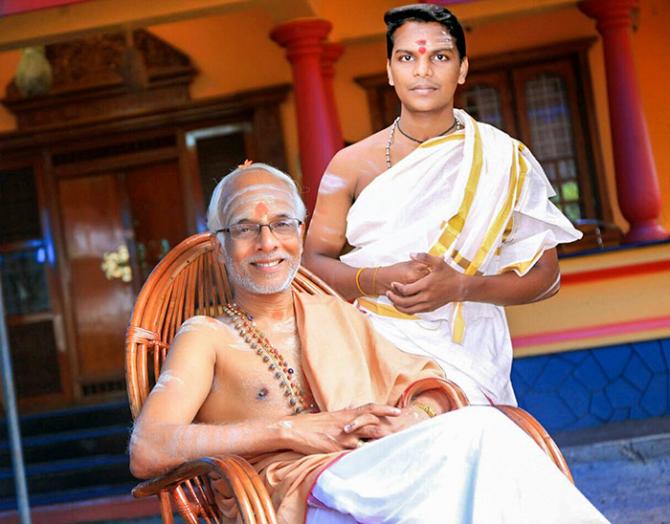 On October 10, 2017, when 21-year-old Yadhu Krishna, a Dalit santhi entered the sanctum sanctorum of the Manappuram Mahadeva temple near Tiruvalla in south Kerala as the melsanthi (main priest), he was creating history.
Devaswom Minister Kadakampally Surendran termed the appointment of 36 non-Brahmins, including six Dalits, as pujaris in temples under the Travancore Devaswom Board as a 'a silent revolution and a model for others to follow'.
The Travancore Devaswom Board manages 1,248 temples, including the Lord Ayyappa temple at Sabarimala.
Yadhu Krishna, who is currently studying for a post graduate degree in Sanskrit, spoke to Rediff.com's Shobha Warrier about growing up as the son of daily wage-earning parents, creating history as the first Dalit santhi and his desire to get a PhD in Sanskrit.
My parents (Ravi and Leela) are daily wage workers and life was never easy when we were children.
They had to really struggle to bring my brother and me up, but they saw to it that our lives were more or less comfortable.
We got electricity in our house only when my brother was in the 10th standard, but both of us never looked at lack of electricity as a drawback.
We had no desires, and never demanded anything from our parents; we were content with whatever we had.
We never felt envious of other kids who had TV and other material things at home. Material possessions never fascinated me, and I don't remember pestering my parents for anything.
My mother says that even as a 4 year old, I was very spiritual and respectful towards everyone.
I became a vegetarian when I was six years old. If you ask me why I turned vegetarian, I don't know. I never enjoyed eating non-vegetarian food.
What changed my life completely was the Lord Ayyappa temple very close to my home. Somehow, I liked spending time at the temple, perhaps that was why I became spiritually inclined.
Or, maybe because I am spiritually inclined, I preferred to spend time at the temple.
I am what I am today only because I grew up so close to the temple.
I was happiest when I was at the temple doing some chores.
Five boys -- including my brother and me -- helped the santhi at the temple by collecting flowers, making garlands, cleaning the temple, washing and keeping the puja vessels ready and making nivedyam (the prasad that is fed to the diety).
We used to collect firewood from the nearby areas for cooking. I was the youngest among the five.
When I was very small, the temple didn't have a proper deity; just a photo. The santhi did puja there, that too only once a month.
I was around 11 when the elders in the village thought of calling a thantri (main priest) to install a deity at the temple, but nobody from the nearby areas was interested as the temple stood in a very small space.
Finally, K K Aniruddhan Thantri from Paravur agreed to come. When he was told that the temple didn't have much space, he said not to worry, soon it will expand.
When he came to the temple, he was impressed with us kids running around and doing so many things for the temple, that too with such devotion.
He asked us to come and learn at the Sri Gurudeva Vaidika Thantra Vidyapeethom in north Paravoor. It is because of him that my life changed completely.
Maybe because I spent a lot of time at the temple involving myself with the temple activities, I had this strong desire to be a santhi, to learn more about the scriptures, rituals and mantras. So, his invitation came as a boon to me.
As we were going to regular school, all five of us started going to the Vidyapeethom during weekends. Everything -- from food to fees to the stay -- was free for all of us.
Our guru Aniruddhan Thantri had many students as his shishyas at the Vidyapeethom. I was never made to feel that I belonged to a particular community.
There was no talk of caste or creed, and all of us were treated equal.
Only when we reached a certain level of education were we allowed to do puja inside the temple. Fortunately, I attained deeksha when I was 12 years old.
At 15, I was allowed inside the temple. The first time I got the chance to do puja at the sanctum sanctorum at our Vidyapeethom, I was so tense and nervous that it took some time for me to realise what I was doing.
After I completed my schooling, I was advised to study Sanskrit, so I continued my studies at the Vidyapeethom and also at the college.
This year, I completed 10 years of Thantra tharpanam studies. When the Devaswom Board called for applications for the posts of santhi, my guru advised me and some others to apply.
Though I am yet to complete my post graduation in Sanskrit, I wrote the test and attended the interview. If I came 4th in the rank list, it was only because of the teachers who teach us at the Vidyapeethom; they are all so knowledgeable and wise.
One of my gurus is doing his PhD on Vedic studies. At 21, I think I was the youngest among those who were selected this year.
After I joined the Mahadeva temple in Tiruvalla as a santhi, I have not been able to go to college. I want to finish my post graduate studies and then do a PhD in Sanskrit if possible.
Till the newspapers started describing me as a Dalit santhi who made history, I had not even thought about the caste I belong to.
Those at the Vidyapeetham also became aware of this only then as my caste was never an issue there.
Describing me as a Dalit santhi came as a big surprise to me. I studied at a Vidyapeethom where nobody asked me about my caste. I studied at a place where we sat with our guru and had our food on Onam and Vishu.
When I applied for the job of santhi, I applied as a person who was eligible.
When I joined the temple as a melsanthi at the age of 21, it was because I got the 4th rank in the list.
Now, everybody is talking only about my caste. I am above all that; it doesn't matter to me and to the people with whom I am associated with.
I am in fact, amused.
To the bhaktas who come to the temple, I am just a santhi who does pujas and gives them prasadam.
I never feel discriminated against and all the people who come to the temple respect me.
Everybody -- most of them are from the higher castes -- look at me as the santhi who could go inside the sanctum sanctorum to offer prayers.
Whoever does that is revered and respected irrespective of the person's age and caste. And that is how it should be.
I was taught by my gurus that we should not look at this as a job or a profession; this is devotion, a divine opportunity to serve God.
Whatever that has happened in my life is niyogam, fate, destiny.
If there was no temple near my house, if my guru Aniruddhan Thantri had not come there and taken us to the Vidyapeethom, I would not have been here at all.
I would not have had the good fortune to be the shishya of such a great guru. So, everything in life happens with a purpose, and I believe in it.
IMAGE: Yadhu Krishna, right, with his guru, K K Aniruddhan Thantri. Photograph: Kind courtesy Yadhu Krishna