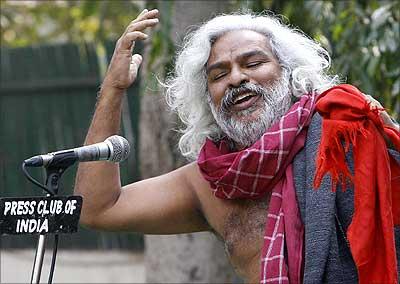 Andhra Pradesh Home Minister K Jana Reddy said that security will be provided to Gaddar, the popular balladeer of Telangana. He gave the assurance to a delegation of Telangana Rashtra Samiti lawmakers who expressed concern over threats to Gaddar's life.
The delegation comprising of MLAs T Harish Rao, E Rajendar, former minister N Narasimha Reddy and the member of Parliament Vinod Kumar met the home minister amid reports that contract killers have been hired to kill Gaddar, after a recent Maoist attack killed 38 policemen on the Andhra Pradesh-Orissa border of June 29.
The delegation told the home minister that ever since the attack, Gaddar was getting threatening letters from unidentified people. The TRS leaders urged him to order an inquiry into the threats. "It is obvious that Gaddar is being targeted because he is supporting the demand for a separate Telangana," said Narasimha Reddy.
Gaddar, who was often described by the police as Maoist sympathiser, was critically wounded in an assassination bid in 1997 when unknown assailants opened fire at him at his residence in Alwal, a suburb of Hyderabad. One of the bullets from that attack remains embedded near his spinal cord.
Gaddar had blamed the police for the attack, in which nobody was ever arrested or tried.
Text: Mohammed Siddique in Hyderabad