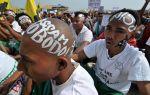 Following fresh incidents of violence in the communally sensitive Bodoland Territorial Autonomous District Council (BTC) areas, Assam Chief Minister Tarun Gogoi on Sunday asked the civil and police administrations to deal with the situation firmly and to ensure no recurrence of such incidents.

The chief minister directed the director general of police , additional director general of police (SB) of Assam Police, deputy commissioner and superintendent of police, Chirang to beef up security and ttake firm action against those trying to spark violence once again in the area.
The DC and SP, Chirang informed the chief minister that the situation was tense but under control, said an official source.

Fresh violence occurred in the BTC area which witnessed massive riot between Bodo tribe and Muslim community in July-August this year, on Saturday with killing of two persons -- one from Muslim community and another a Bodo tribe person. One Ainal Seikh was shot dead by unidentified miscreants at a paddy field at Number 2 Baju Gaon under Gossaingaon police station in the morning hours on Saturday while another person Rabindra Basumatary was murdered by unidentified miscreants with sharp weapons at Antahibari under Kokrajhar police station later in the day. Both the incidents created fresh tension between the two communities in the BTC.

In the wake of the fresh incidents of violence, Chief Executive Member of the BTC, Hagrama Mohilary asked the rest of the violence-displaced inmates still lodged in refugee camps, not to go back to their villages without adequate security.

Meanwhile, chief minister Tarun Gogoi claimed that the government was able to persuade total 4,46,296 riot-displaced refugees in the BTC to leave for their respective homes and only just 39,625 riot-hit were left in camps as on date.