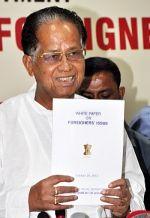 Assam Chief Minister Tarun Gogoi on Friday made it clear that any accord between the Centre and the NSCN(IM) should not compromise the territorial integrity of his state.
"I will be very happy if there is any settlement between the two sides. But it should be done without any change to the territorial integrity of Assam," Gogoi said.
He said he had nothing against the so-called "emotional integration" of Nagas living in various states of the Northeast as well as Myanmar, as espoused recently by NSCN(IM) leaders.
The chief minister took a dig at the erstwhile National Democratic Alliance regime of A B Vajpayee at the Centre and the then AGP government in Assam over their stand in the Naga peace process.
"The BJP and AGP wanted to extend the ceasefire with NSCN(IM) to other states like Assam and Manipur. We were the ones who opposed the idea tooth and nail," he said.
Regarding the dialogue process with the two factions of the National Democratic Front of Bodoland, Gogoi said the matter was still in its initial stages.
Gogoi said he hoped Assam would get more representation in the Union council of ministers in case of any reshuffle or expansion. Assam currently has only one minister.
Referring to recent violence in the state, Gogoi said only 95,000 displaced people remained at camps now, while 3.90
lakh had gone back home.
He said, "The Group of Ministers entrusted with relief and rehabilitation of the displaced people would be holding a meeting on October 30 to discuss the issue."