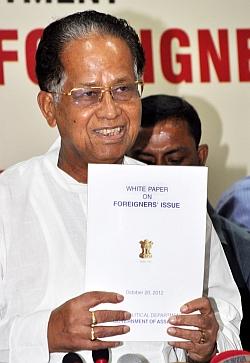 Assam Chief Minister Tarun Gogoi on Saturday stated that the foreigners or infiltration was not the only major problem faced by the state as some quarters have trying to project it though he admitted that illegal foreigners were indeed present in the state.
Releasing a white paper on the foreigners issue Gogoi said, "The government is concerned about the problem of illegal migrants, but it is not as grave as many would like the outside world to believe."
Gogoi said the state had to deal with many other major issues such as education, health, unemployment, clean drinking water, etc, that were of priority for the state government while 'Bangladeshi migrants issue was not the number one problem in the state.
"Economic development is our topmost priority and as for the problem of illegal migration we are firmly for stopping the infiltration across the border," he said.
Gogoi said he would not take the apprehension aired by certain quarters that the identity of the Assamese people was under threat because of the illegal migrants from Bangladesh as the rate of infiltration across the border was on the wane of late.
Since 1985, a total of 4,52,667 cases of suspected foreigners have been registered with Foreigners Tribunals in the state, of which 1,84,275 cases have been disposed.
Out these, 61,774 foreigners have been declared as foreigners. Of these 32,537 cannot be deported since they came between 1966-71 (people who entered during this period cannot be deported. They were disfranchised for 10 years after which they could get back the voting right if they get themselves registered).
Of the remaining 29,237 declared foreigners' only 2442 have been deported so far. The chief minister admitted that the deportation record has been poor and cited the absence of any extradition treaty with Bangladesh as the major impediment.
"Bangladesh refuse to acknowledge that these foreigners are their citizens and even talk about involving a neutral party in settling citizenship issues of such people," he said. 

Regarding the sealing of the India-Bangladesh border by erecting barbed wire fencing, Gogoi informed that Assam had completed 97 per cent of the wok in two phases while Meghalaya had done 81 per cent, Tripura 85 per cent, Mizoram 59 per cent and West Bengal has completed 80 per cent.
He said total 19.55 kilometers of land border with Bangladesh in Assam had remained unfenced while 44.23 kilometers of river border can't be fenced in the Assam sector. That leaves total 63.79 kilometers of border (both land and river) unfenced in Assam.