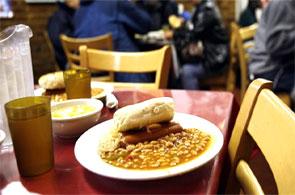 Amid talk of an ordinance on the Food Security Bill, the law ministry has warned that without putting a proper mechanism in place to distribute foodgrains, a law should not be implemented.
The law ministry has told the food ministry during inter-ministerial consultations that without the list of intended beneficiaries with state governments in place, an ordinance should not be promulgated as it would make the proposed law meaningless.
It also said that a system of redressal mechanism should be ready before the ordinance - which will be the law of the land till replaced by an Act of Parliament - is promulgated, sources said.
Another strong view against the proposed ordinance is that legal rights to a citizen cannot be guaranteed through an executive order and it can be provided only by Parliament through an Act.
The law ministry is of the opinion that the ordinance would be catering to a future development when the system is in place at state and district levels. Without a mechanism ready for distribution of foodgrains, the Food Ministry has failed to show any "urgency" in promulgation of the proposed ordinance, the sources said.
The government had tried to get the bill passed in Lok Sabha in the recently-concluded Budget session. The debate on the proposed legislation could not be concluded amid din. The Food Bill aims to give legal right over a uniform quantity of 5 kg foodgrains at a fixed price of Rs 1-3 per kg via ration shops to 67 per cent of the population.