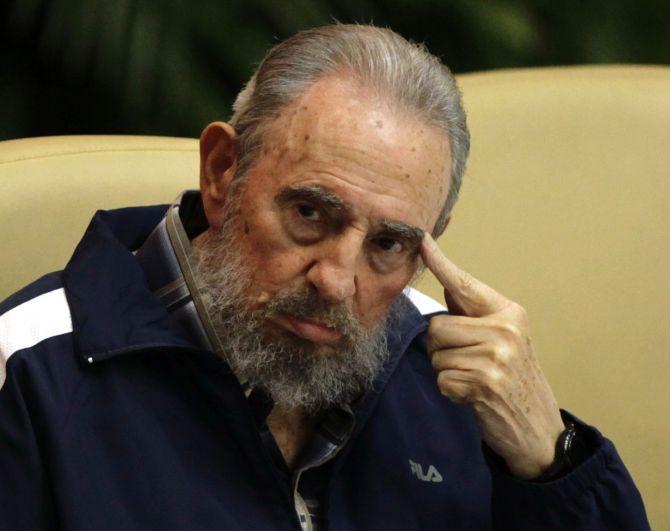 Former Cuban President Fidel Castro, who led the rebel army which overthrew the dictatorial regime of Fulgencio Batista, embraced Soviet-style communism and defied the power of 10 United States Presidents during his rule, has died. He was 90.
His younger brother and Cuban President Raul Castro announced on state television that the revolutionary leader died at 10.29 pm on Friday night.
The Cuban government has announced nine days of mourning and has set Castro's funeral for December 4.
He was cremated on Saturday and his ashes will be buried at a ceremony on December 4 in Santiago de Cuba.
From November 26 to December 4, 'public activities and shows will cease, the national flag will fly at half mast on public buildings and military installations,' a statement from the state executive said.
Castro's ashes will be buried in the historic southeastern city of Santiago on December 4 after a four-day procession through the country, it added.
The iconic revolutionary, who survived a crippling trade embargo imposed by the United States and many assassination plots, died eight years after ill health forced him to formally hand power over to Raul, first provisionally and then permanently.
Castro's commitment to socialism was unwavering. His defiant image lingered long after he gave up his trademark Cohiba cigars for health reasons and his tall frame grew stooped.
His reign over the island-nation was marked by the US-backed Bay of Pigs invasion in 1961 and the Cuban Missile Crisis a year later that brought the world to the brink of a nuclear war.
Born August 13, 1926 to a prosperous Spanish immigrant landowner and a Cuban mother who was the family housekeeper, young Fidel was a quick study and a baseball fanatic who dreamed of a golden future playing in the US big leagues.
He attended Jesuit schools, then the University of Havana, where he received law and social science degrees. His life as a rebel began in 1953 with a reckless attack on the Moncada military barracks in the eastern city of Santiago.
That involvement netted the young Fidel two years in jail, and he subsequently went into exile to sow the seeds of a revolt, launched in earnest on December 2, 1956 when he and his band of followers landed in southeastern Cuba on the ship Granma.
He triumphantly rode into Havana in January 1959 to become, at age 32, the youngest leader in Latin America. For decades, he served as an inspiration and source of support to revolutionaries from Latin America to Africa.
Once in undisputed power, Castro aligned himself with the Soviet Union. And the Cold War Eastern Bloc bankrolled his tropi-communism until the Soviet bloc's own collapse in 1989.
'Socialism or death' remained Castro's rallying cry even as Western-style democracy swept the globe and other communist regimes in China and Vietnam embraced capitalism, leaving this island of 11 million people an economically crippled Marxist curiosity.
Fidel Castro held onto power as 11 US presidents took office and each after the other sought to pressure his regime over the decades following his 1959 revolution, which closed a long era of Washington's dominance over Cuba dating to the 1989 Spanish-American War.
He survived long enough to see Raul Castro negotiate an opening with President Barack Obama on December 17, 2014, when Washington and Havana announced they would move to restore diplomatic ties for the first time since they were severed in 1961.
He cautiously blessed the historic deal with his lifelong enemy in a letter published after a month-long silence.
However, the US was among the first to formally recognise his government in 1959, cautiously trusting Castro's early assurances that he merely wanted to restore democracy, not install socialism.
Within months, Castro was imposing radical economic reforms. Members of the old government went before summary courts, and at least 582 were shot by firing squads over two years.
Independent newspapers were closed and in the early years, homosexuals were herded into camps for 're-education'.
In 1964, Castro acknowledged holding 15,000 political prisoners. Hundreds of thousands of Cubans fled, including Castro's daughter Alina Fernandez Revuelta and his younger sister Juana.
Still, the revolution thrilled millions in Cuba and across Latin America who saw it as an example of how the seemingly arrogant Yankees could be defied. And many on the island were happy to see the seizure of property of the landed class, the expulsion of American gangsters and the closure of their casinos.
As Castro moved into the Soviet bloc, Washington began working to oust him, cutting US purchases of sugar, the island's economic mainstay. Castro, in turn, confiscated $1 billion (Rs 6,800 crore) in US assets.
The American government imposed a trade embargo, banning virtually all US exports to the island except for food and medicine, and it severed diplomatic ties on January 3, 1961.
On April 16 of that year, Castro declared his revolution to be socialist, and the next day, about 1,400 Cuban exiles stormed the beach at the Bay of Pigs on Cuba's south coast.
But the CIA-backed invasion failed.
The debacle forced the US to give up on the idea of invading Cuba, but that didn't stop Washington and Castro's exiled enemies from trying to do him in. By Cuban count, he was the target of more than 630 assassination plots by militant Cuban exiles or the US government.
Castro's dangerous liaison with the Soviet Union took the world to the nerve-jarring edge of nuclear war in the 1962 Cuban Missile Crisis. It was sparked when Moscow sought to position nuclear-tipped missiles on the island just 144 kilometres off the US state of Florida.
After a tense standoff between the rival superpowers, the world pulled back from the abyss as Moscow agreed to keep the missiles off Cuban soil.
Castro exported revolution to Latin American countries in the 1960s, and dispatched Cuban troops to Africa to fight Western-backed regimes in the 1970s. Over the decades, he sent Cuban doctors abroad to tend to the poor, and gave sanctuary to fugitive Black Panther leaders from the US.
But the collapse of the Soviet bloc ended billions in preferential trade and subsidies for Cuba, sending its economy into a tailspin. Castro briefly experimented with an opening to foreign capitalists and limited private enterprise.
He allowed more international tourism and slight economic reform on the Caribbean's largest island. Aided by a tourism boom, the economy slowly recovered and Castro steadily reasserted government control.
A new ally, Hugo Chavez, president of oil-rich Venezuela and also a foe of Washington, began bankrolling Castro's regime.
Castro kept his private life largely private, but in recent years, more details became public.
In 1948, he married Mirta Diaz-Balart, who gave birth to their first son, Fidelito. The couple later divorced.
In 1952, Castro met Naty Revuelta, a socialite married to a doctor, and they had a daughter, Alina, in 1956.
He met Celia Sanchez, said to have been his main life partner, in 1957 and remained with her until her death in 1980.
In the 1980s, Castro reportedly married Dalia Soto del Valle, with whom he had five children: Angel, Antonio, Alejandro, Alexis and Alex.
After stepping aside in 2006, Fidel Castro recovered slowly from surgery and kept rallying on the sidelines to push his Revolution into the 21st century. It made it, in decidedly rough shape.
President Raul Castro, the former defence chief who is now (born June 3, 1931) himself, in the past few years kept dissent largely in check and economic reform limited, with the island's economy in very dire straits.
Photograph: Desmond Boylan/Reuters