Farmers raised slogans outside the offices of district commissioners and took out protest marches in Punjab and Haryana on Monday, following a nationwide call given by their unions against the new central laws.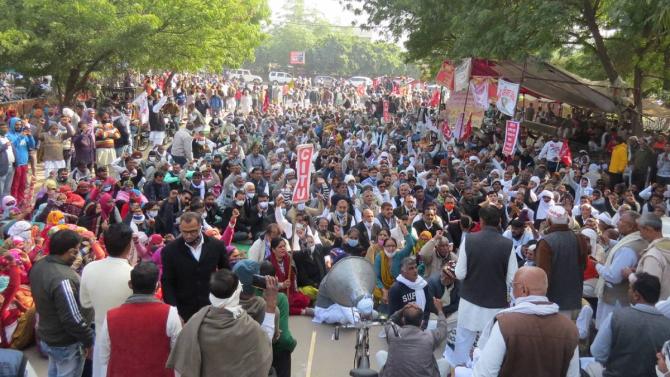 The Haryana Police closed the Ambala-Patiala highway after protesters gathered at the Shambhu border point with adjoining Punjab.
The ruling Congress also held protests in Punjab, with the state unit chief Sunil Jakhar participating in one near the Shambhu border.
Shiromani Akali Dal workers protested in Amritsar.
In Punjab, protests were held in several districts including Ludhiana, Patiala, Sangrur, Barnala, Bathinda, Moga, Faridkot, Ferozepur and Tarn Taran.
"Farmers held protests outside the offices of deputy commissioners at several places in Punjab," Bhartiya Kisan Union (Ekta Ugrahan) general secretary Sukhdev Singh Kokrikalan said.
He added that there were plans to hold protest marches as well.
In Haryana, protests were reported from Fatehabad, Jind, Sirsa, Kurukshetra, Gurgaon, Faridabad, Bhiwani, Kaithal and Ambala.
Slogan-shouting protesters pushed at the barricades near the mini-secretariat in Jind, trying to enter the district office complex.
In Fatehabad, they took out a tractor procession before some of them sat on a hunger strike at the district secretariat.
In Ambala city too, there was slogan shouting outside the DC's office.
In Faridabad, farmers took out a march towards the secretariat.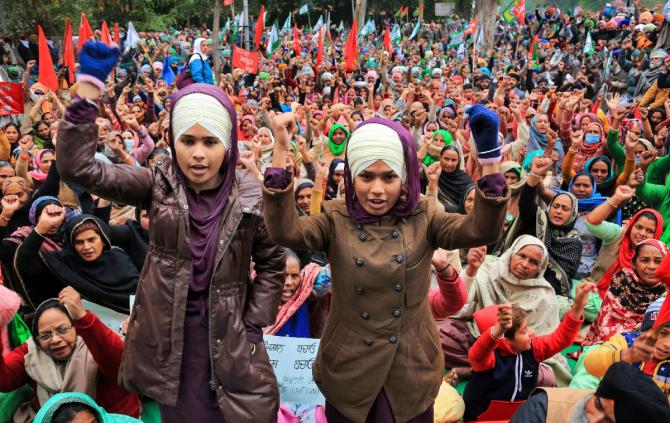 A group of lawyers also sat on a 'dharna' there, extending support to the farmers.
Memorandums were submitted to the Centre through the deputy commissioners at other places in Haryana, demanding the scrapping of the new laws.
"We want a legal guarantee on the MSP and the repeal of the farm laws," said a Fatehabad farmer.
Thousands of farmers -- mainly from Punjab and Haryana -- have been camping at the entry points to Delhi for days. Monday's district-level protests were part of this agitation.
Farmer unions are seeking the repeal of the three agri-marketing laws enacted at the Centre in September.
Negotiations so far with the Centre have failed to break the deadlock over the laws, which the unions say weaken the minimum support price (MSP) system and will leave them at the mercy of big corporations.
The Bharatiya Janata Party-led government has assured that the system will stay and maintained that the laws will offer farmers more options for selling their crops.