'They show the whole world how this government is treating its farmers.'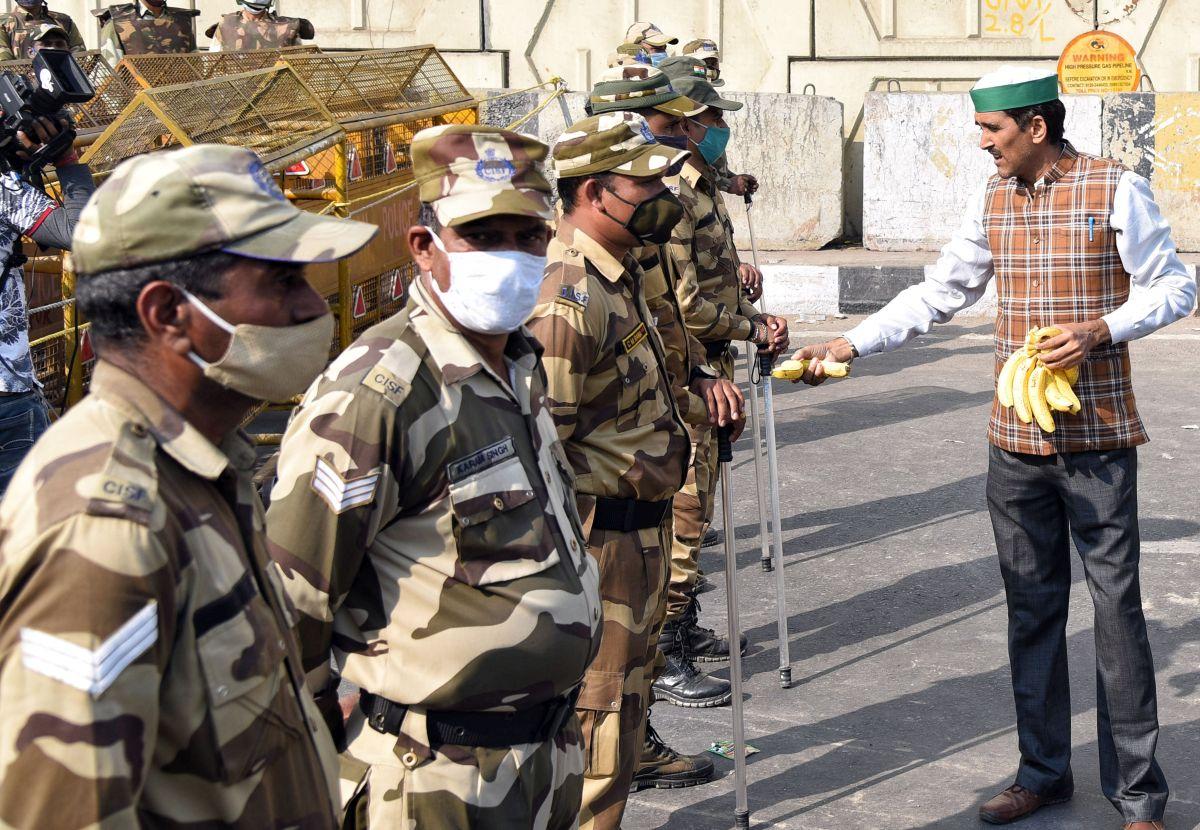 Rakesh Tikait, national spokesperson of the Bharatiya Kisan Union, was part of the discussions with Union government representatives in New Delhi on December 4.
Tikait tells Prasanna D Zore/Rediff.com that if the government doesn't roll back or revoke the three controversial farm laws, more and more farmers will pour into the national capital in the days ahead.
Founded in 1965 by Chaudhary Charan Singh and brought into prominence by farmer leader Mahendra Singh Tikait, Rakesh's father, the BKU is associated with the All India Kisan Coordination Committee, which is in the forefront of the agitation on Delhi.
You met Cabinet ministers from the Modi government and have another meeting on Saturday. How has the central government's attitude been towards your demands?
We have been engaged in negotiations for about eight hours yesterday (on Thursday, December 3) with Agriculture Minister Narendra Singh Tomar and Commerce Minister Piyush Goyal.
After those eight hours of discussions we are getting a sense that kendra sarkar dil se pichche nahi hatna chahti aur agar aisa hai toh kisan Dilli se nahi hatenge (the central government is not willing to take back the three farm laws and if that's their attitude towards the demands of farmers, then let me be clear, farmers will not move out of Delhi).
Let us wait for the coming days to know what the consequences will be of the Union government's obstinacy.
What were the issues discussed during those eight hours with the agriculture minister and commerce minister?
The most fundamental demand of all the farmers unions is the immediate revocation of the three farm laws.
We have suggested that once these three laws are scrapped, farmers and the government will sit together to thrash out all the contentious issues and come up with a far better draft unanimously that will secure the interests of farmers.
Just like the Land Acquisition Act (Right to Fair Compensation and Transparency in Land Acquisition, Rehabilitation and Resettlement Act, 2013) was amended to safeguard the interests of farmers, we need a similar Act that will safeguard the future of farmers and guarantees minimum support price for their produce.
But you are saying that the Modi government is not willing to revoke the three farm laws. How will the government then heed your suggestions?
Now the situation is that the government is not willing to backtrack on these three farm laws that are harmful to farmers's interests and the farmers have come to Delhi with a firm determination that they will not go back home until these three farm laws are scrapped.
Let us see what happens now. We have yet another meeting with the ministers tomorrow (Saturday).
Have you got any assurances from the government about your demands?
Their position is they may think about bringing in some amendments, fix some gaps, but the farmers are not willing to accept any amendment to these laws. We want an end to these three farm laws. That's final.
Why are the farmers opposed to laws that allow them to sell their produce in the market to the highest bidder? Won't these laws benefit farmers?
Let them give us a guarantee that they will get a minimum support price or better than MSP and let them show us the markets where farmers could sell their produce for higher prices. We will happily go there and sell our produce.
This government wants to fleece and exploit the farmers and labourers by clubbing them together for the benefit of big corporates.
They have brought these three laws to get funding from these corporates and force farmers to sell their produce at a price that will only benefit big corporate traders.
They want money from the big corporates and votes from farmers. Let the Modi government understand that their ulterior moves will not work now; they will have to change their ways and work for the betterment of farmers.
Farmers have already poured into Delhi and as our demands face this government's obstinacy, more farmers will pour into Delhi in the days ahead.
What if the talks scheduled for Saturday also prove inconclusive?
So what? We are determined to stay in Delhi for the long haul.
The farmers will not vacate at least till January 26. They will see the Republic Day parade, participate in it with tractors along with tanks and jawans; show the whole world how this government is treating its farmers.
This Republic Day the country will see farmers's tractors parade on Rajpath. The farmer too wants to know what red carpet treatment this government has laid down for big corporates.
Why is the government not keen on including a guaranteed MSP clause that the farmers are demanding?
If the government brings in a guaranteed MSP, then the farmers will benefit and big corporates won't be able to make big profits. This is what this government doesn't want to happen.
Who are these traders you have been referring to?
Some are big, some are small. Kuch mama aa jayenge inke; kuch bhanje aa jayenge inke, dono milkar kamayenge (some traders and corporates close to this government will benefit from these three farm laws).
There are allegations of Khalistani elements hijacking the farmers's agitation, what do you have to say to that?
Hamein toh koi Khalistani mila nahi yahan. Agar inko mil jave toh humko dede. Hame bohot mazdooron ki zaroorat hai khana banana ke liye, khet main kaam karne ke liye (we didn't find any Khalistani here. If the government finds them let them hand these Khalistanis to us. We need labour to cook food for us and till our lands).
It is the habit of this government to divert attention by such cheap gimmicks.