Why did ISRO's workhorse Polar Satellite Launch Vehicle rocket fail during its 41st flight?
T E Narasimhan reports.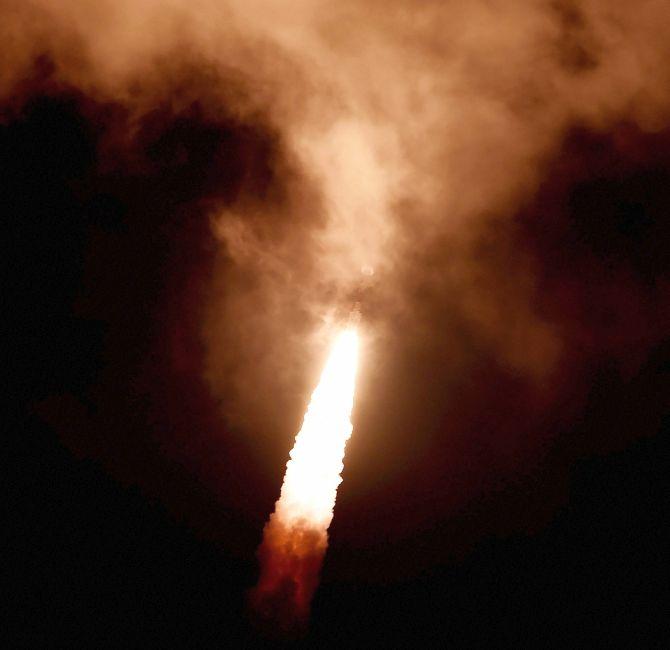 IMAGE: ISRO's navigation satellite IRNSS-1H launched from Sriharikota. Photograph: R Senthil Kumar/PTI Photo
As the Indian Space Research Organisation's attempt to place the country's eighth navigation satellite in orbit failed, questions were raised whether this would have any impact on its commercial interests.
ISRO's workhorse Polar Satellite Launch Vehicle rocket failed during its 41st flight, unsuccessful in hurling a backup navigation satellite into space last week, setting back the country's attempts to complete the constellation of homegrown GPS satellites for strategic needs.
The IRNSS-1H, a backup satellite with a new atomic clock, was to replace the first of the two failed NavIC (Navigation with Indian Constellation) satellites that had faulty rubidium atomic clocks, essential in providing accurate positional data.
The NavIC fleet, India's answer to the United States-built global positioning system satellites or Europe's Galileo, will help in providing accurate positions for vehicles on roads and ships on high seas.
The textbook launch of ISRO's PSLV, a journey of around 20 minutes into outer space, was marred after the heat shield or the uppermost container of the rocket, where the 1,455 kg satellite was housed, failed to open.
The project cost is estimated at Rs 250 crore (Rs 2.5 billion).
'The satellite is inside the heat shield and we have to go through a detailed analysis to see what happened,' ISRO Chairman A S Kiran Kumar said soon after the failed launch.
'Apart from the heat shield separation, the rest of the activities had gone on smoothly,' Kumar added.
The PSLV, Kumar said, had successfully carried out 39 consecutive launches and during the August 31 launch it had performed well during all the stages.
'Only the heat shield separation command and subsequent operations could not be completed,' he added.
'It is really perplexing that such a thing has happened. Normally the rocket has several redundancies built into it,' R V Perumal, a former ISRO scientist was quoted by the Indo Asian New Service.
Perumal said all the commands were planned and built into the computers. 'There cannot be any manual command,' he added.
The satellite was the first one ISRO built jointly with a private consortium in its attempt to leverage India's private sector to build spacecraft in the country.
'It would be unfair to target the private sector for the failure,' Kumar said.
The IRNSS-1H was built by a consortium led by Alpha Design Technologies, a defence equipment supplier from Bengaluru, over eight months.
A team of 70 scientists from ISRO supervised the operations. The consortium was to build two satellites and the second one is expected to be finished by April 2018.
So far, private firms have only built components and systems for Indian satellites and rockets.
ISRO had planned to tap private players over a decade ago to build satellites, but the experiment failed as industry wanted a large-scale commitment before it began work.
ISRO has already announced a tender to invite private firms to build bigger satellites.