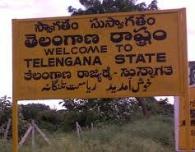 Even if the formation of a new state is announced, it is unlikely that the bill on it will be tabled in the monsoon session of Parliament, reports Vicky Nanjappa
The Congress is likely to announce a new Telangana state on Tuesday, but the formation will take a while yet. The ruling party will refer the matter the Andhra Pradesh assembly.
This is part of the process in the formation of a new state, the Congress says. It would seek the opinion of the state assembly following the approval by the Union cabinet.
When the matter is referred to the state assembly it would first be debated on the floor of both houses and a resolution needs to be passed. In all likelihood, this resolution will be defeated since the leaders from the Rayalaseema-Andhra belt outnumber their Telangana counterparts. According to legal experts, this, however, will not deter the formation of the new state, as the decision by the assembly is immaterial once the Cabinet has cleared the matter. It is just a matter of formality, they said. The Constitution does not mention that it is mandatory for the state assembly to pass the resolution.
The Congress would like the process to be completed before the 2014 Lok Sabha elections. There is a fair amount of clarity on the road map the party is likely to set for the formation of the state.
Many leaders feel that it is unlikely for the bill on Telangana to be tabled in the monsoon session of Parliament starting on August 5. Following the decision on a separate state, the Cabinet would have to meet to clear the bill. Once this is done, it would be sent to the Andhra assembly for an opinion. It is only after this that the bill will be introduced in Parliament. In the August session of Parliament, the Congress is most likely to target in all its resources on the Food Security Bill and hence the bill on the new state may have to wait.
While chalking out the road map for Telangana, the biggest issue would be the status of Hyderabad. In all probability, the capital would be shared between the states for 10 years. The leaders from Telangana, however, say that the sharing period would be for five years. The question of making Hyderabad a Union territory is out of the question, as no leader from the state is in favour of this.
Leaders from the Seema-Andhra region suggested to the Congress high command that the other option was to divide Hyderabad into two. However, this idea was dismissed, as it was geographically not feasible. In all likelihood the capital will be shared for a period of five years and the Union government would be in charge of the law and order situation till the transition process is completed.