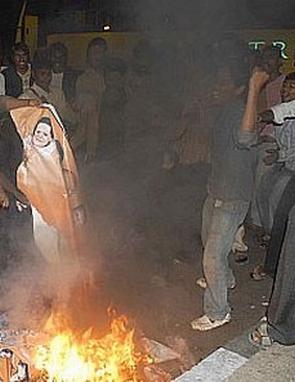 The Congress Working Committee is likely to take a final decision on the bifurcation of Andhra Pradesh, to create a state of Telangana, on Tuesday.
But activists who have been seeking the creation of a separate state are not ready to celebrate just yet.
"We do not trust the Congress. We cannot forget the statement made by P Chidambaram, who, as the home minister, had assured us that the process to create a separate state had started. Nothing happened after that," said one of them.
Telangana activists are determined to celebrate only after the Bill is passed in both houses of Parliament. Meanwhile, they are planning to launch a fresh agitation to press for their demand from July 31.
A flurry of political activities will unfold in Andhra Pradesh once the CWC meeting takes a final call on Telangana.
Chief Minister Kiran Kumar Reddy has already expressed his displeasure over the party's decision to divide the state.
Reddy is expected to attend the CWC meeting. If the Congress goes ahead with its decision to bifurcate Andhra Pradesh, Reddy, along with Members of Legislative Assembly from Rayalseema-Andhra region, is likely to resign.
The Congress, which has dilly-dallied over this issue for years, is now ready to face the consequences of its decision.
If Reddy resigns, the party will appoint a new CM who will oversee the Telangana creation process.
In case all the Congress legislators from Rayalseema-Andhra also resign, the Congress will dissolve the assembly and prepare for the next polls.
According to sources, Congress leaders discussed the possibility of creating a Rayal Telangana state, but discarded the idea as neither the people of Telangana nor those of Rayalseema would be satisfied with such an arrangement.
"This is a battle that is being fought for our cultural identity. Including Rayalseema in the new state is not the right way to go. We do not want politics behind any decision. The Congress should not be thinking of its electoral prospects at this time. They should respect the sentiments of the people of Telangana and not play politics," said a Telangana activist.
Image: A protest by Telangana activists against Congress ' Photograph: SnapsIndia