M P Veerendra Kumar, the managing director of leading Malayalam daily Mathrubhumi and a member of PTI's Board of Directors, died on Thursday at a private hospital following cardiac arrest, family sources said.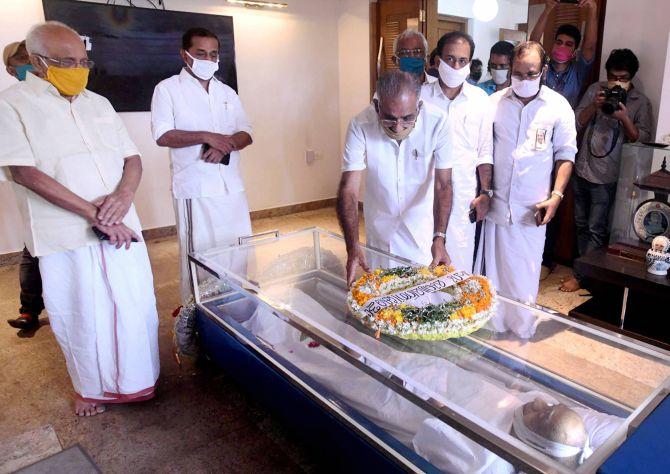 Veerendra Kumar, a Rajya Sabha MP from Kerala and a former Union minister, was 84.
"He was admitted to the hospital here due to some health complications. But unfortunately he passed away a little before 11 pm," the sources told PTI.
He is survived by his wife, three daughters and a son, M V Shreyams Kumar, who is the Joint Managing Director of Mathrubhumi.
Veerendra Kumar was elected to the Kerala Legislative Assembly in 1987 and to the Lok Sabha twice.
Veerendra Kumar, the Left Democratic Front-backed Independent candidate, was elected to the Rajya Sabha in the elections held for the lone seat from Kerala in March 2018.
His last rites will be held at Wayanad on Friday evening.
Veerendra Kumar had served thrice as the Chairman of Press Trust of India, and at the time of his death was one of the directors in the news agency's board.
President Ram Nath Kovind, Vice President M Venkaiah Naidu, Prime Minister Narendra Modi and other leaders condoled the death of Veerendra Kumar.
The President said he was a 'staunch socialist' who enriched journalism and literature.
'Sad to hear of the passing of Shri M P Veerendra Kumar, Rajya Sabha MP and former Union Minister. A staunch socialist, he enriched the field of journalism and literature by leading the influential Malayalam newspaper, Mathrubhumi. Condolences to his family and well-wishers,' he tweeted.
'He was a multifaceted personality. The veteran leader was also an accomplished journalist and a prolific writer,' Naidu, who is the Chairman of Rajya Sabha, said.
As chairman and managing director of the Mathrubhumi Printing and Publishing Limited, he made an invaluable contribution to media and journalism, Naidu said.
Veerendra Kumar authored several books and won many accolades, including the coveted Kendra Sahitya Akademi Award, the vice president pointed out.
'Human rights and environmental conservation were recurring themes in his writings. He was always deeply committed to the cause of the deprived and marginalised,' Naidu said in a series of tweets.
In his death, the nation has lost a great leader and true patriot, he added.
'My heartfelt condolences to the bereaved family members. May his soul rest in peace. Om Shanti,' Naidu said
PM Modi said Veerendra Kumar believed in giving a voice to the poor and the underprivileged.
'Anguished by the passing away of Rajya Sabha MP Shri M.P. Veerendra Kumar Ji. He distinguished himself as an effective legislator and Parliamentarian,' Modi wrote on Twitter.
Veerendra Kumar believed in giving a voice to the poor and the underprivileged, the prime minister added.
'Condolences to his family and well wishers. Om Shanti,' Modi said.
Kerala Chief Minister Pinarayi Vijayan said Veerendra Kumar's demise was a big loss to democratic and secular movements.
'Until his last breath, he relentlessly fought communalism and divisive politics. Even as he championed development, Veerendra Kumar was a front-line environmentalist as well. I share this moment of deep grief with his relatives and colleagues,' Vijayan wrote in a Facebook post.
Noting that he knew Veerendra Kumar personally for decades, the Marxist leader remembered how the two had fought together the Emergency and maintained that relationship even after they had deviated in their political beliefs for a brief while.
'The death of M P Veerendra Kumar is a heavy loss for democracy and secular movements. His contributions to our social and cultural spheres had been invaluable,' Vijayan said.
He had given insightful inputs at a recent joint meeting of MLAs and MPs on tackling the COVID-19 situation in the state, the chief minister said.
'With his uncompromising stand for the freedom of the press, he also made valuable contributions to the media industry. A talented writer and orator, he deeply analysed every issue that came his way,' Vijayan said.
Congress leader Rahul Gandhi also condoled the death of Veerendra Kumar.
'I am sorry to hear about the passing away of author & Managing Director of the Mathrubhumi Group, M P Veerendra Kumar Ji. My condolences to his family, colleagues & friends in thistime of grief,' he said in a tweet.
Gandhi is also an MP from the Wayanad Lok Sabha constituency in Kerala.