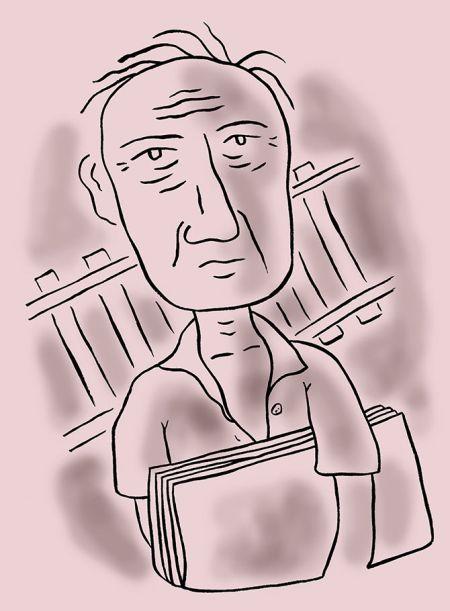 For 40 years, he was an efficient cog in Mumbai's newspaper business.
But in death he was forgotten by those very newspapers, discovers Syed Firdaus Ashraf.
Illustration: Uttam Ghosh/Rediff.com
For the last 20 years Vengurlekar, the man who delivered newspapers to my home, has been an important part of my life.
My bed tea began with the expectation that Vengurlekar would arrive on time with the newspapers, which was critical for journalists those days.
Vengurlekar never disappointed. He never missed a deadline.
Before 7 am he would drop the newspapers, come rain, winter or summer. He never took a day off in the last 20 years except once when he went to his native place to attend some festival.
Once I gifted him a T-shirt for Diwali, but he returned it, saying he did not wear round neck T-shirts. I asked why. "It suffocates me," he said. I replaced it with a collar T-shirt, which he was happy to wear and show it to me.
Things started changing these last six months. Vengurlekar began coming late to drop the newspapers. I was irritated and I once expressed my displeasure. He would only say, "the newspapers reached late."
At times he would come in with the newspapers at 9 am. I stopped complaining. I got my news online and from television.
Three months ago, his wife called to say that her husband had suffered a heart attack. I was shocked. Two weeks later, after he was discharged from hospital, I went to see him at his home.
I was surprised that no one in the chawl knew who Vengurlekar was. Finally, one man said Vengurlekar stayed on the first floor.
It was a modest one-room tenement with a kitchen attached. Vengurlekar's teenage daughter greeted me at the door and I saw Vengurlekar lying on a cramped bed.
He got up to wish me and I could see the face of a tired man. He was pale and in pain. It was the portrait of a defeated, disillusioned, man.
I asked about his well being, He said he was very tired. I asked him to rest. I then offered him monetary help, but he refused.
He asked who was delivering the newspapers. I told him I had appointed someone temporary and the day he came back I would discontinue the arrangement.
As I tried to speak about other things, I could sense that he was not interested in more conversation. He answered in monosyllables. Ten minutes later, I bid him goodbye.
A month later he called to say he was back in business. I told my new newspaper vendor to discontinue the service as I was going back to Vengurlekar.
The new newspaper vendor, a young man, grew angry. "I will never ever drop newspapers again to your house," he said, "you are sacking me without good reason."
I explained to him that everyone gets old and Vengurlekar too had grown old. We cannot dump someone because he had gotten old. I told him that 20 years later he too would get old like Vengurlekar. He calmed down and we made peace.
Vengurlekar began dropping newspapers on time which made me happy.
I told him to take care of his health, but it was not the Vengurlekar I knew. He avoided eye contact and would rush off after handing over the newspapers. Many days he would drop the newspapers outside the door.
Last week, Vengurlekar did not drop the newspapers. His wife called to say he was not well.
On Monday, Vengurlekar did not turn up. I read the news online that morning.
In the evening I called Vengurlekar to check on his health.
Vengurlekar had passed away, his wife said. I was speechless. His wife was weeping and I was at a loss for words.
Fifteen minutes later, I got a call from a neighbour who told me that Vengurlekar had committed suicide.
On Monday morning, Vengurlekar went to pick up the newspapers at 3 am instead of his usual 4 am.
He did not pick up the newspapers. Instead he threw himself in front of a passing train.
The next day another newspaper vendor told me that Vengurlekar was an introvert and did not mingle with others.
When I asked why Vengurlekar had committed suicide, the vendor said, "His wife lost her job six months ago. There was a financial crisis in the family after he suffered a heart attack. He could not bear the expenses."
I told him that I had offered financial help as did my neighbours, but Vengurlekar turned it down.
"He never said what was on his mind," the other newspaper vendor said. "I knew him for 40 years, but he always maintained a distance."
Then the newspaper vendor made a sad comment on journalism. "There are 30 newspapers on my newspaper stand. Vengurlekar has been in this industry for more than 40 years. He has been distributing newspapers without a day off, and still no one bothered to publish a news item on his passing."
Rest in Peace, Vengurlekar.