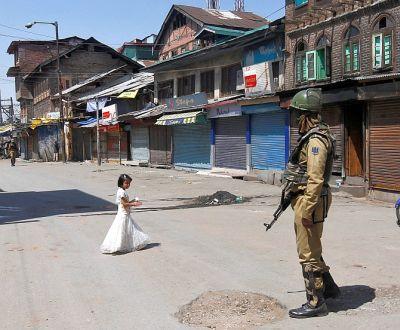 Former Research and Analysis Wing chief AS Dulat has claimed that everybody in Kashmir makes money off the unstable situation in the region, alleging that it is 'in their DNA'.
In an interview with a Pakistani television network, Dulat said that there are lots of ways to motivate people, including distributing money to them. He also noted that the Indian agency also had many friends among the people of Kashmir, adding that there was nothing new in intelligence agencies paying off separatist leaders.
Dulat also questioned the 'hue and cry' surrounding intelligence agencies paying off members of the Hurriyat, noting that senior journalist Praveen Swami had written the same in a Frontline article. At the statement, the interviewer, Ejaz Haider, admitted that intelligence agencies are paying the Hurriyat. However, Dulat later said that the Hurriyat might be annoyed at him for saying so.
Dulat also stated that talks between India and Pakistan always fall short of fruition, stating that it was a tragedy that Indo-Pak talks 'hote hote reh gaya', noting that the same holds true for both the Agra summit as well as the agreements forged by former prime minister Manmohan Singh. He also said that disruptions in the peace process have occurred due to Islamabad and New Delhi's political decisions being at cross purposes.
Dulat expressed regret over failed talks between the Indian administration and Hurriyat hardliner Syed Ali Shah Geelani. Dulat said Geelani was, for many years, the 'only credible voice on the streets of Kashmir', adding that his not talking to the separatist leader was a 'grave error'. The former Rand AW chief, however, noted that the situation was now going out of the control of the Hurriyat, stating that that is not good for anybody.
Dulat further said that while Islamabad claims that India is not bothered for the wellbeing of Kashmir, Pakistan too is not bothered for the same.
Dulat revealed that he used to say that let the Indians talk to the Hurriyat, after that Pakistan can, and then whatever settlement is reached can be claimed by Islamabad as their victory, but then noted that for such a scenario to play out, a level of trust has to be established.
Denying claims of interfering in the peace process, Dulat further stated that the disruptions have occurred due to the political decisions and cross purposes of Islamabad and New Delhi. Dulat also revealed that former Jammu and Kashmir chief minister Farooq Abdullah was of the opinion that 'terror camps' should be bombed, however, adding that the National Conference leader may not have necessary meant it literally, but that such was his thinking.
Dulat also disclosed that separatist leader Shabir Shah never received a passport because he had never filled the form and thus never visited Pakistan.
He said Hizbul Mujahideen Syed Salahudin had requested via the Information Bureau that his son Wahid be shifted from a college in Jammu to one in Srinagar, but he disagreed with the 'security concerns' raised by Salahudin.
Dulat said former Pakistan president General Pervez Musharraf's approach to the Kashmir issue was the only point of view acceptable.
He recalled that Musharraf had said that whatever was acceptable to Kashmiris would be acceptable to Islamabad. The former R&AW chief also lamented that Musharraf's point of view was not adopted by all parties involved, terming his formula of greater freedom for Kashmiris on both sides of the border as the best solution for the two countries.
When the interviewer, Ejaz Haider, asked Dulat about the lessons he learnt, the former R&AW chief said that while intelligence agencies are paid to make efforts, there is no consistency. He recalled that opportunities in 2006 and 2007 were not used, adding that today, when he talks to his friends in Pakistan about what Musharraf had said, they dismiss him. The prevalent view being that the former Pakistani president was on a 'solo flight'.
Dulat also revealed that the contact between R&AW and the Pakistani Inter-Services Intelligence in 2003-04 was beneficial to both sides, revealing that the Indian agency had passed on information to their Pakistani counterparts, which helped in foiling an attack on Musharraf by banned terror outfit Jaish-e-Mohammad.
Dulat dismissed the recent Amnesty International report on Kashmir, pointing out that the people of the region were affected by Pakistan as much as they were by India. Dulat also claimed that after the Kargil war, the people of Kashmir realised that Pakistan too had its limitations.
Image: A Kashmiri girl passes by a security personnel standing on guard on a deserted street in Srinagar. Photograph: Danish Ismail/Reuters