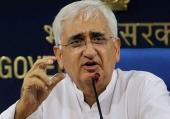 The Uttar Pradesh Police's Economic Offences Wing on Monday started collecting documents in connection with its probe into alleged financial irregularities in a trust run by Union Law Minister Salman Khurshid.
"EOW teams are collecting documents at various levels including state, divisional and district headquarters as a part of the investigation," said Director General of EOW Subrat
Tripathi.
When asked about the details, Tripathi said it was neither a raid nor a search. "How can we call it a raid or search when documents are being provided willingly," the DG said.
The Uttar Pradesh government had directed the Economic Offences Wing to probe into charges of misappropriation of funds by the Zakir Hussain Trust run by Khurshid and his wife Louise.
Four teams, three under the Kanpur sector and one under the Meerut sector, were constituted for probe in 17 districts where irregularities are suspected. The inquiry is crossing the preliminary stage as order for the probe was issued on July 3, Tripathi had said on Sunday.
Uttar Pradesh Chief Minister Akhilesh Yadav, meanwhile, refused to comment on the inquiry.
"It will not be appropriate to comment on the matter as an inquiry is already underway. It was started in the previous (BSP) regime. How can I comment without an outcome of the inquiry," Yadav told reporters in reply to a question.
"Bina inquiry khatam hue ye bhi kehna theek nahi hai ki inquiry nispaksh nahi ho rahi hai (It would not be right to say that the inquiry is not fair till it is completed)," he said.
In Bulandshahr, former UP chief development officer J B Singh, whose signature on affidavits related to the NGO was allegedly forged, told reporters, "Investigation is going on in this matter. It is not appropriate for me to say anything. The investigation is ongoing. I won't say anything."