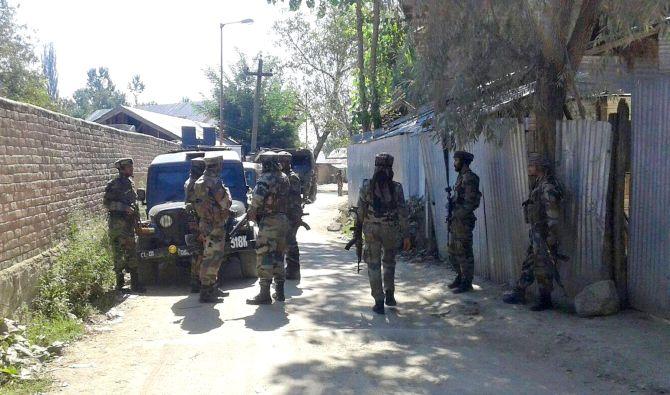 A militant believed to be responsible for a number of recent killings and targeting of mobile installations was on Wednesday gunned down in Baramulla in an encounter during which an armyman also lost his life.
The encounter in Rafiabad area, about 50 kms from Srinagar, started at around 7 am after security forces launched a search operation following specific information about presence of militants, police said.
During the search operation, militants fired at the security forces and an encounter ensued, which went on for over nine hours.
"One militant and one army soldier have been killed in the operation," a police official said.
The slain militant was identified as Riyaz Ahmad, resident of Brath Kalan in nearby Sopore area, and was affiliated with Lashkar-e-Islam (LeI), a breakaway group of Hizbul Mujahideen, a police spokesman said.
"He was involved in a number of killings in Sopore and adjoining areas. He was also involved in threatening and terrorizing the landlords of mobile towers and mobile franchise owners," the spokesman said.
He said the slain militant was involved in the killing of a BSNL franchise employee in June. Two other employees were injured in this incident.
Riyaz alias Gosha joined Hizbul Mujahideen last year and was operating along with Imtiyaz Kandoo alias Fayaz and Adil Mir, the spokesman said.
"He along with Mehraj Halwai and Adil Mir killed Bomai Sarpanch Ghulam Mohammad Bhat. He was involved in grenade blast in Dangerpora orchards in which three civilians got killed," he said.
The spokesman said Riyaz was also involved in the killing of one Hurriyat Conference activist -- Khursheed Ahmad Bhat of Bomai in Sopore -- in June this year.
One AK-47 rifle, two AK Magazines and several bullets were recovered from the encounter site, he added.
With inputs from PTI
Photograph: Umar Ganie/Rediff.com