The police say the attack could be classified as a hate-crime. Ritu Jha reports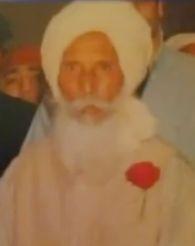 An 82-year-old Sikh man was attacked on Sunday outside Gurdwara Nanaksar in Fresno, California which the police said could be classified as a hate-crime.
Bhai Piara Singh, a resident of Fresno, was attacked while he was returning home after a morning prayer.
He is in a critical condition with more than 20 stitches.
Fresno Police Chief Jerry Dyer office staff told rediff.com, "A lot of the members called and that leads us to believe that it was a hate crime."
She added that though she was not sure how it is going to be classified, "We are thinking that it is going to be classified as a hate-crime. Our department is going to meet the Sikh community today (Tuesday) afternoon," she said.
Local California based community organisation North American Punjabi Association strongly condemned the attack. NAPA spokesperson Satnam Singh Chahal through a press statement said that Piara Singh a volunteer at the Gurdwara became the target of a hate crime outside the Gurdwara on Cherry Road in Fresno.
He said that the incident took place just outside the premises of Gurdwara Nanaksar when Piara Singh was walking towards his house after performing some morning duties in the SikhTemple. Chahal said that "the attack is a hate crime and is a slam on the glorious history of our modern American society."
Chahal said Piara Singh was beaten with a steel rod. He is currently admitted in a hospital and is undergoing treatment for severe head injuries. His condition is said to be critical. His rib was also fractured and a lung collapsed during the attack.
The Sikh have been targeted post 9/11 said Chahal, he said in December 2011, 56-year-old Sikh preacher, Sant Anup Singh, a visitor from India, was attacked by a 26-year-old white man named Mitchell Dufur at Fresno's International Airport next to the TSA office.