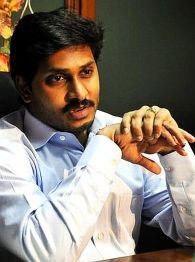 The results in Seemandhra have shocked YSR Congress chief Jaganmohan Reddy.
Reddy conceded defeat and said his party will play the role of the constructive opposition.
A distraught Jagan Reddy said he never expected such a verdict.
"We thought we would do well. We tried our level best. Narendra Modi's magic clearly worked for the TDP (Telugu Desam Party) here," he said. He also said that the people of the region have believed Chandrababu Naidu's false promises.
"I want to thank the voters who have voted for us and we will do all we can for them," Jagan added.
The YSR Congress office saw on Friday wore a deserted look.
"We are worried about the party's future. What we fear the most is people leaving the party now. The challenge ahead is huge and this result has completely stumped us," said a party leader, who wished to remain anonymous.