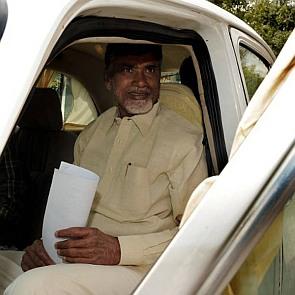 The smile has just not left Chandrababu Naidu's face ever since the counting of votes began on Friday.

Having been out of power for the last decade, not many gave Naidu a winning chance this time around. But the Telugu Desam Party chief proved his critics wrong on Friday.

According to voters rediff.com spoke to, every voter in Seema-Andhra was well aware that the state had been bifurcated and that they had to build a new state. Naidu was clearly experienced on this front, as he had been chief minister for two terms.

The TDP fared well in the urban areas, its traditional stronghold.

Besides, the Narendra Modi rally for the TDP-BJP combine and corruption charges against YSR Congress chief Jagan Mohan Reddy worked to Naidu's advantage.

Naidu also managed to convince the people that Jagan was more interested in getting his cases quashed rather than ruling the state.
Some even feel that an 'over-confident' Jagan could have salvaged his position had he been more vocal about his clear support to the BJP.

The other factor that went in the TDP's favour was the high voter turnout (79 per cent) which was clearly an indication that the upper middle class and the educated class -- which have always been with Naidu -- came out and voted for him.
Also, the people of Seema-Andhra wanted a model state built at any cost and this meant that any state government having good relations with the Union government was getting the popular vote.

Where Jagan went wrong

Jagan miscalculated the situation completely.

The YSR Congress leader felt that the BJP would fall short and rely on him for support. All that went horribly wrong.
He appeared to be a hero all along, but watching him closely one did get the impression that he was not very convincing on issues such as development and corruption.

While Jagan did manage to get a lion's share of the Dalit, Reddy and Christian votes, the TDP focused entirely on the backward caste Kapu and Kamma votes.

Also, Jagan's ploy to field his mother Vijayamma from the coastal belt of Vizag failed. He misinterpreted the sentiment among the mostly urban sector, which preferred to go along with Modi
Finally, one cannot forget the manner in which differences were ironed out between Naidu, Pawan Kalyan and Narendra Modi. Towards the end of the campaign they came together in a major way and swung it in favour of the TDP-BJP combine.

One must also not forget that the Congress had a pathetic show here. They were completely routed in both segments. Many in the Congress say had the state not been bifurcated they would have won at least 5 seats in the Seema-Andhra region.