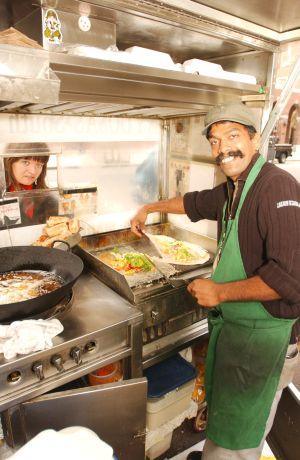 Thiru 'The Dosa Man' Kumar, whose vegan cart is a big hit with New York University professors and students, has won the Vendy Award, given to New York's top street chef vendor.

"I have a simple formula for success," he says. "I cook the way I would do for my family and closest friends. And I do not believe that street food should use over heated oil and make short cuts."

Kumar, who runs NY Dosa, is a 39-year-old migrant from Sri Lanka. He has been a finalist in the contest thrice.

"I think every day I make vegans very happy but today I have made them proud too," he said.

Kumar, who began his cart business six years ago following a disagreement with a restaurant owner he worked for in New York's Queens borough, says there is an informal dosa club at New York University.

Kumar says he eschews dairy products religiously.

"People have to taste my dosas to see how good they taste without using ghee or butter," says Kumar, whose dosas fly off his cart between 11 am and 4 pm each day, except on Sunday.
He believes tour guides in at least 44 countries list his cart as a must New York experience.

Kumar says he enters the competition not so much to win the Wendy but to bring attention to a culinary tradition that he wants more people to know of.

He won the first prize for his Pondicherry Dosa, which is filled with seasonal vegetables.

He says he has been trying to prove that street food can rise far above the quick-fix stuff that is doled out in a few minutes.

"People have asked me if I can open a restaurant," he says, adding, "I am tempted but there is a kind of joy in running the cart. I think I would love to see such dosa carts in several places in the city."

The event serves to show gratitude to the vendors who provide hurried New Yorkers, commuters and tourists with everything from morning coffee to meals, the organisers say. The Street Vendor Project instituted the award. About 650 of the city's estimated 10,000 vendors belong to the project.

Reportage: Arthur J Pais | Photograph: Paresh Gandhi