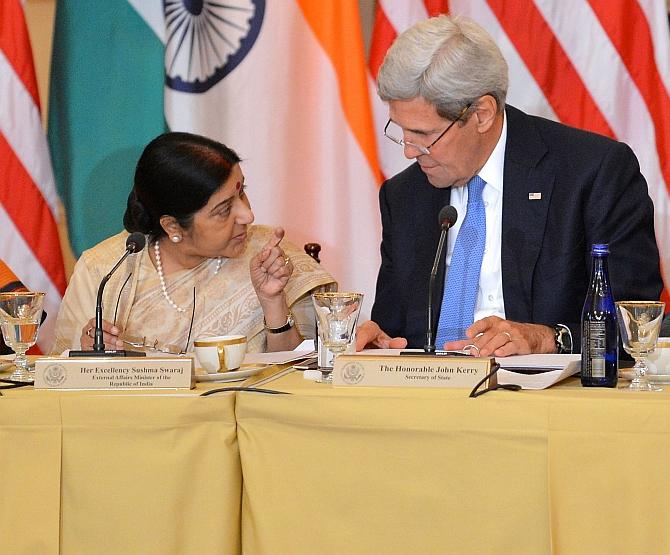 In the wake of deteriorating ties with Pakistan, the United States on Thursday asked India not to escalate the situation.
According to a report by the Indian Express, US Secretary of State John Kerry has had "two conversations" over the "last two days" with External Affairs Minister Sushma Swaraj on this issue, even as India explores a range of diplomatic options to isolate Islamabad.
It is also reported that US Security Advisor Susan Rice called her Indian counterpart Ajit Doval and condemned the Uri terrorist attack saying the White House expects Pakistan to take "effective action to combat and delegitimise" United Nations-designated terrorist groups.
The conversations between Kerry and Swaraj took place even as India looks into reviewing the Indus Waters Treaty, and review Most Favoured Nation status to Pakistan.
The Indian Express report citing sources said that Washington was appreciative that the Indian side has acted with a "lot of restraint" following the Uri attack.
After Pakistan Prime Minister Nawaz Sharif met Kerry last week, US State Department Deputy Spokesperson Mark Toner said: "We've seen some progress; we want to see more, and I think moving forward we'll just continue to work closely and try to encourage greater counter-terrorism cooperation with Pakistan but also within the region."
State Department Spokesperson John Kirby stated later that Kerry "reiterated the need for Pakistan to prevent all terrorists from using Pakistani territory as safe havens, while commending recent efforts by Pakistani security forces to counter extremist violence."