These days, our Pradhan Sevak mostly avoids the 'C word.
So no mention of China when he traveled to Ladakh on July 3 or in his Independence Day speech.
These days with the terrifying number of rising coronavirus cases every day, he steers clear of coronavirus as well in his public utterances.
But he is not altogether allegric to words that begin with 'c'. Canines featured prominently in his Mann Ki Baat for August on Sunday.
The Pradhan Mantri hailed Indian canines, specifically Sophie and Vida, the two brave Indian Army dogs who were awarded the Chief of Army Staff's Commendation Cards on August 15.
What about the pandemic and the government's plans to arrest the numbers of coronavirus cases? Silence.
India has registered over 70,000 cases each day for the last five days even as the central government unveils Unlock 4.0.
On Wednesday, August 26, India registered 75,760 infections followed by 77,266 cases on Thursday, August 27.
Friday, August 28, saw 76,472 cases with Saturday, August 29, infections numbering 78,761 cases -- the single highest day spike registered in the world since the COVID-19 pandemic started.
Sunday saw more then 78,000 cases for the second day taking India's tally of COVID-19 beyond 36 lakh (3.6 million) cases.
Dominic Xavier captures Sunday's scene of contrasts.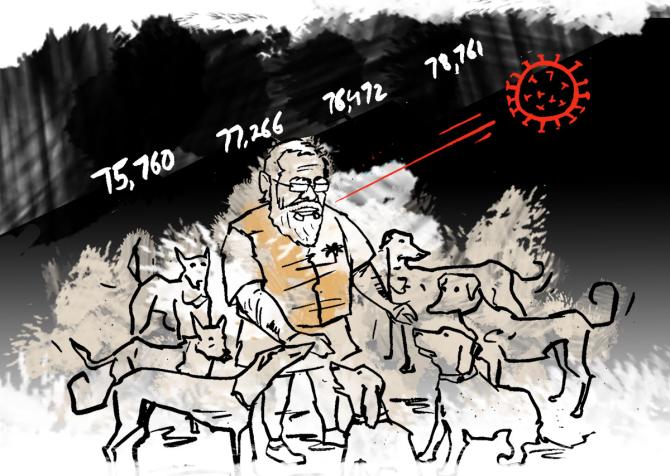 Feature Presentation: Aslam Hunani/Rediff.com