Seeking to clear the air on the health of late Chief Minister J Jayalalithaa when she was rushed to the Apollo Hospitals in Chennai on September 22 last year, the British doctor who treated her asserted that she was conscious while being brought in an ambulance from her home.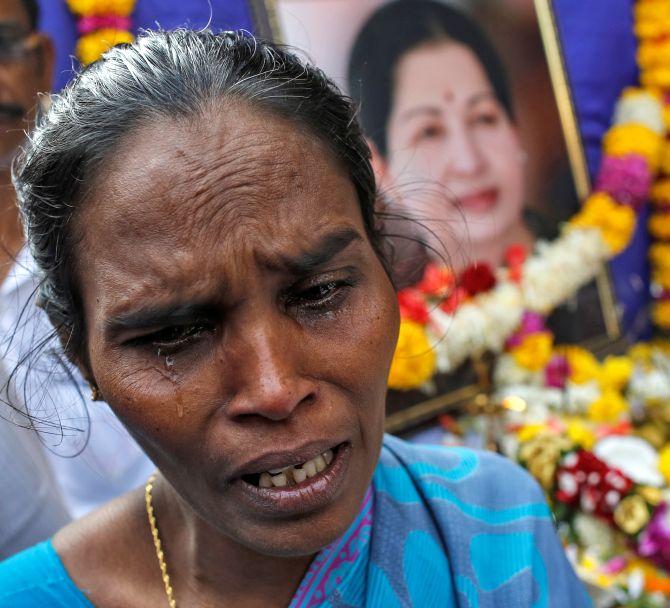 The late chief minister was on and off ventilator and often also interacted after being admitted for fever and dehydration, Richard Beale told a news conference.
Beale was flanked by P Balaji of Madras Medical College and K Babu of Apollo Hospitals, who had signed in election forms on which her thumb impression was taken.
This was for nominating All India Anna Dravida Munnetra Kazhagam candidates for elections to two seats and a bypoll to one segment last year.
Beale clarified that it was possible for sepsis, the body's response to infection, to spread fast and damage other organs though Jayalalithaa showed signs of recovery during her 75-day stay at the Apollo Hospitals.
On the day she was admitted "she became short of breath at home and very short of breath when the ambulance brought her to the hospital... there was an infection resulting in damage to organs and contributing to shortness of breath".
He said at that time "it was not clear" what the source of infection was "but subsequent tests showed there was indeed infection in her blood".
"So bacteria was going from the blood and that was where the infection was identified and resulted in her general poor condition," he said.
It was known that Jayalalithaa was suffering from diabetes and high blood pressure, he said.
When asked about why no pictures of Amma were released, the doctor said that they did not allow release of information about patients who are critical. "It is not normal practice to take photos and publish private details. It is an intrusion into her privacy," he said.
On the final moments of Jayalalithaa, Dr Beale said it was a 'completely unexpected collapse'.
"Why it happened we don't know, except that Jayalalithaa was of mature years with chronic diseases like hypertension, diabetes, with recovering sepsis and an infection in the heart," he said.
The doctors said AIADMK general secretary Sasikala and other top state officials were briefed on a daily basis about the progress in treatment.
They said there was 'no political pressure' to hold the press conference.
Beale said Governor Ch Vidyasagar Roa, on his second visit, had gone into the intensive care unit and flashed a thumbs-up to Jayalalithaa which she responded to.
Beale further explained that Jayalalithaa was diagnosed with Septicemia.
"Sepsis can come on extremely quickly, and its consequences can be severe," he said, adding that diabetes and high blood pressure had increased her vulnerability.
Dr Babu and Dr Balaji said she was 'admitted with uncontrolled diabetes alongside septicaemia and the best of treatment was given."
They, along with Beale, said that when admitted, Jayalalithaa had fever and dehydration and when evaluated, it was also found that her sugar levels were uncontrolled. She also had 'urinary infection' and since it was 'sepsis increased', it had 'cascading effects'.
She was treated with non-invasive ventilation which involves putting a mask to the face. Her condition improved somewhat initially and she was conscious and responding.
"Unfortunately as the sepsis progressed she got more tired she was put on ventilator fully," they said.
Dr Balaji reiterated that he attested the signature of Jayalalithaa for the bypoll papers and it was witnessed by Dr Babu.
"She was conscious when she put her thumb impression, I spoke to her," he said.
She could not sign the papers as her hand was inflamed due to administration of IV fluids, he added.
Dr Balaji also said that no amputation was carried out on Jayalalithaa's legs during her 75 days in hospital.
"No amputation was done and no transplantation (of any sort) was done," he said, when asked on claims that Jayalalithaa's legs were removed.
He said the late chief minister had her legs intact till the end.
It may be recalled that senior counsel K M Vijayan, who appeared for AIADMK worker Joseph last month, had told the Madras high court that people were worried about the secrecy surrounding Jayalalithaa's death and wanted to know whether her leg was 'amputated' during treatment prior to her passing away.
The court was hearing a PIL seeking a judicial inquiry into the circumstances leading to her death.
Prof Dr Sudha Seshaiyan of the Madras Medical College, who oversaw the late chief minister's embalming procedure, said she had found no deep marks on Jayalalithaa's cheek, as claimed by some social media users.
Images that purport to show 'dots' on Jayalalithaa's cheek have been widely shared on social media.
"I did check, there were no deep dots (on cheek)...I cannot say why such dots appeared deep in social media (videos)," Dr Seshaiyan told reporters.
However, Dr Beale sought to clarify that 'critically ill patients often have some markings on their face'.
When asked why Jayalalithaa's photograph is not being released, he said, "It is absolutely not a normal practice to photograph people who are critically ill."
He said there was no CCTV footage of Jayalalithaa getting treated.
Seshaiyan said that normal embalming procedure was followed to preserve the body.
She said the procedure that began on the midnight of December 5 was completed in 15 minutes and was done to prevent the body from deteriorating.
As many as 5.5 litres of embalming liquid were used to preserve Jayalalithaa's body, she said.
Image: A supporter of Tamil Nadu Chief Minister Jayalalithaa cries as she attends a prayer ceremony at the AIADMK party office. Photograph: Danish Siddiqui/Reuters
-- Inputs from Agencies