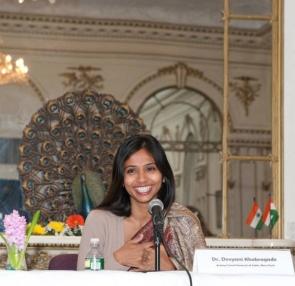 This is not the first time IFS officer Devyani Khobragade has found herself under the scanner, says Neeta Kolhatkar.
The arrest of India's Deputy Consul General in New York Devyani Khobragade -- for allegedly presenting fraudulent documents to the United States State Department -- has shocked and embarrassed civil servants of all hues.
Devyani has been accused of presenting fraudulent documents in support of a visa application for an Indian national employed as a babysitter and housekeeper at Khobragade's home in Manhattan.
But this is not the first time Devyani has found herself under the scanner.
She has been in the dock earlier for owning a flat in the controversial Adarsh Society, which has been accused of violating every rule in the book, in Mumbai's upmarket Colaba locality. The housing project was originally meant to accommodate Kargil war hero families but was illegally allotted to top bureaucrats, defence officers and politicians after converting it from a six-storey building to a 31-storey one.
She and her father Uttam Khobragade, a former IAS officer, were pulled up for not disclosing the fact that Devyani already owned a flat on government's quota before booking a flat in Adarsh Society.
In fact, both father and daughter have claimed that they were not legally bound to inform the court that Devyani owned another flat in Meera Cooperative Society in Oshiwara, in a posh suburb in north-west Mumbai.
She had acquired the flat in Oshiwara under the state government's quota for civil servants.
As per the rules of the Maharashtra government, an official applying for a flat under a government quota has to give a signed affidavit stating that they do not own any other flat.
Uttam Khobragade, in fact, told the two-member Adarsh inquiry panel in April 2012, "It is not my duty to inform the state government that my daughter Devyani, member of the Adarsh society, had already been allotted a flat under the state government's 10 per cent quota."
Devyani is reported to have sold the flat in Oshiwara for a whopping amount in 2008.
The issue is bound to resurface once the judicial panel's report into Adarsh Society scam is tabled in the state assembly during the ongoing winter session.
Image: Devyani Khobragade ' Photograph Courtesy: www.facebook.com/devyani.khobragade/