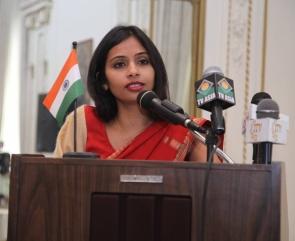 A diplomatic passport does not necessarily give one diplomatic immunity, pointed out New York-based attorney Anand Ahuja, while commenting on the arrest -- and subsequent release -- of Devyani Khobragade, India's deputy consul general in New York on Thursday.
Article 17 of the Vienna Convention on Consular Relations of 1963 specifically states, Ahuja pointed out, that non diplomatic acts by consulate officers do not confer any diplomatic privileges and immunities.
"The best example is of (former International Monetary Fund chief Dominique) Strauss-Kahn – (he was) handcuffed, taken out of his airplane, and put into the jail even though he claimed his diplomatic immunity," Anand said.
Other legal sources agreed that diplomatic immunity was unlikely to be granted to Khobragade.
"It's not an official action, rather it's an employment contract subject to US laws," pointed out one source. "Hence, there is criminal and civil liability -- as far as I understand."
Ahuja said, "When we Indians, who are used to mistreating domestic servants back home in India, come to countries like the United States, where these workers enjoy a fair amount of legal protection, (we) continue treating them badly as if we still live in India. It's when we are exposed to these laws of foreign countries that we realise that we are not living in India."
The latest Global Slavery Index of 2013, which provides a ranking of 162 countries, says India has the largest number of people in modern slavery -- estimated between 13.3 and 14.7 million. According to Human Rights Watch, 'domestic workers in countries like India face horrific abuses.'
The United States Fair Labour Standards Act establishes minimum wage, overtime pay eligibility, recordkeeping, and child labour standards affecting full-time and part-time workers in the private sector and in federal, state, and local governments.
American states also have their own labour laws.
New York's Domestic Worker's Bill of Rights provides the right to overtime pay, a day of rest every seven days, three paid days of rest each year after one year of work for the same employer, protection under the state human rights law, and a special cause of action for domestic workers who suffer sexual or racial harassment.
In the US there are many legal aid societies that also provide pro-bono (for free) representation to such victims.
"US immigration laws provide immigration benefits to victims of such abuses," Ahuja pointed out. "Therefore, at times, false cases of abuse by these domestic workers are also filed -- to get benefits under these various laws, especially under US immigration laws."
Another New York attorney Ravi Batra, who has handled such cases before, argued for framing of a new law for such cases.
"Absent the creation of such a new legal category for diplomatic foreign domestic workers, which exempts them from US labour laws, including, wages and hours, American laws must be followed to avoid both criminal and civil liability as well as Diaspora and foreign-sovereign embarrassment," Batra said. "Foreign nations who pay their workers at or near US labour rates are free from this risk. However, of 194 countries, most nations are below US-mandated hours and wage standards, and this later group's diplomatic corps remain at high risk to be in the crosshairs of illegality and reputation-suicide."
Batra also agreed that a diplomatic passport does not provide automatic diplomatic immunity.
Ahuja said there two separate and distinct international conventions -- the Vienna Convention on Diplomatic Relations of 1961, and Vienna Convention on Consular Relations of 1963 -- on this subject.
"Consular immunity offers protections similar to diplomatic immunity," he said, "but these protections are not as extensive, given the functional differences between consular and diplomatic officers. Consular officers, for example, are not accorded absolute immunity from a host country's criminal jurisdiction. They may be tried for certain local laws by a local court, and are immune from local jurisdiction only in cases directly relating to consular functions."
Image: Devyani Khobragade ' Photograph: Paresh Gandhi/Rediff.com