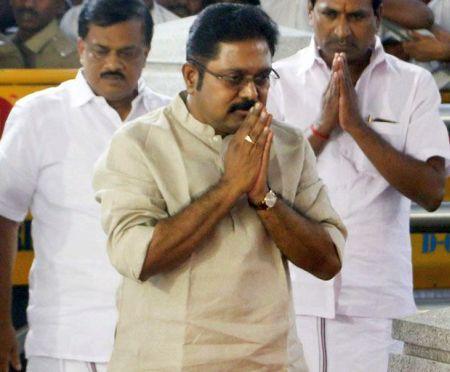 All India Anna Dravida Munnetra Kazhagam deputy chief T T V Dinakaran has been asked to appear before the Crime Branch of Delhi Police on Saturday in a case of alleged bribery to Election Commission officials for retrieving the party's 'two leaves' symbol.
The Delhi Police had on Wednesday night served summons to him in the case.
Assistant Commissioner Sanjay and another official served the summons to Dinakaran at his Besant Nagar residence.
The Delhi Police had also issued a lookout notice against Dinakaran on Wednesday. The lookout notice was issued in the wake of inputs that Dinakaran was an NRI and could try to flee the country.
The Crime Branch had on April 16 arrested an alleged middleman, Sukesh Chandrashekhar in New Delhi in connection with the case.
He claimed that he had told Dinakaran that he will get a favourable verdict from the Election Commission of India in the party symbol case, he said.
It has been learnt that he had allegedly struck a deal for Rs 50 crore for helping the AIADMK faction keep the 'two leaves' symbol.
Dinakaran, the nephew of jailed AIADMK general secretary V K Sasikala, is facing a revolt by an influential section of the party led by Chief Minister K Palaniswami and a host of ministers, who had on Tuesday declared the ouster of the once powerful aunt-nephew duo, and extended a hand of friendship to the Panneerselvam camp.