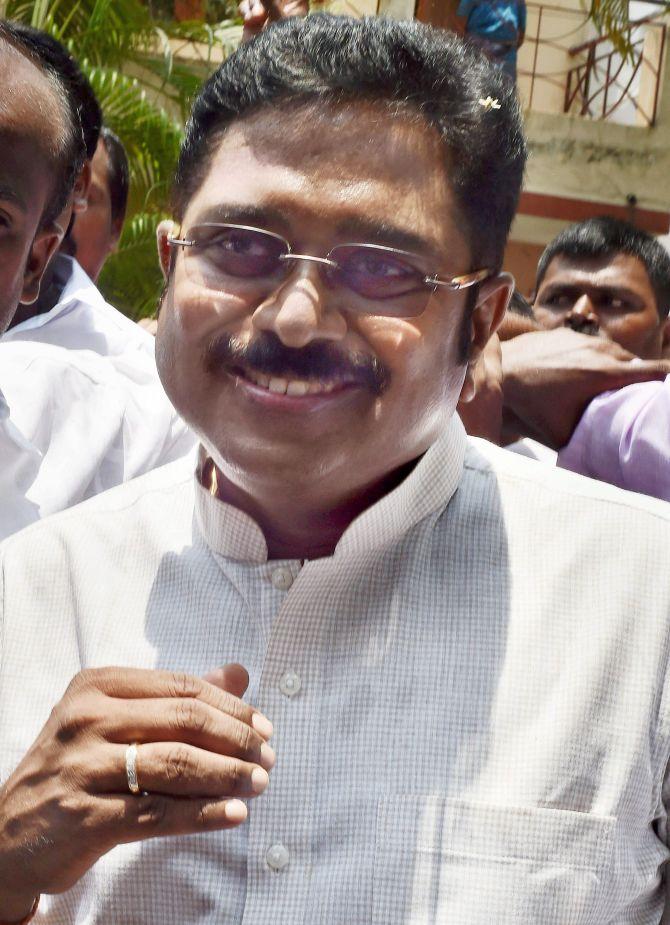 Delhi Police officials on Wednesday served summons to All India Anna Dravida Munnetra Kazhagam-Amma deputy general secretary T T V Dinakaran in a case of alleged bribery to Election Commission officials for retrieving the party's two leaves symbol.
It is, however, not known when Dinakaran has been asked to appear before them.
Assistant Commissioner Sanjay and another official served the summons to Dinakaran at his upscale Besant Nagar residence in Chennai.
The Delhi Police personnel, who were inside Dinakaran's house for about 20 minutes, declined to speak to the waiting media while leaving the premises.
Anxiety and tension, meanwhile, prevailed for a while as a party worker tried to allegedly set himself ablaze to show his opposition to the police.
The self-immolation bid was thwarted by other cadres and some plainclothesmen.
Dinakaran had, soon after the arrest of Sukesh Chandrasekhar asserted that he will face the matter legally.
He had denied any knowledge of Chandrasekhar.
On Tuesday, the Delhi Police had issued a lookout notice against the Dhinakaran.
The lookout notice was issued in the wake of inputs that Dhinakaran was an NRI and could try to flee the country, police said.
The AIADMK-Amma deputy general secretary is already facing the heat as the K Palaniswami Cabinet revolted against him on Tuesday night and decided to keep him and his family out of the party and the government.
Photograph: R Senthil/PTI Photo