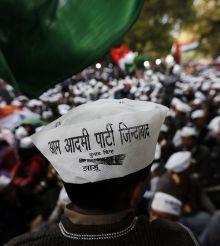 Rejecting the allegation of illegally receiving foreign funds, Aam Aadmi Party has told the Delhi high court that it got donations worth Rs 30 crore from Indian citizens only, out which about Rs 8.5 crore came from NRIs.
Denying having violated any foreign exchange or other laws, AAP contended that the PIL accusing it and its founding members of having illegally received foreign funding is "scandalous, frivolous, motivated and baseless".
The party, in its response filed in the high court, has said that it has "very small amount of funds and also the most transparent method of political funding amongst all parties".
"It is the only party whose all financial records, and the names of each and every donor is on its website, open for public view," the affidavit, filed by AAP national secretary Pankaj Kumar Gupta, said and sought dismissal of the PIL.
AAP, while rejecting the contentions in the petition for lodging of a criminal case against it and its members, said that the high court "must direct a thorough investigation of the funding sources (including foreign funding) of major political parties, particularly the Congress and the BJP".
"These are the parties that have received donations officially running into thousands of crores from unknown sources. Other hidden donations that are not shown in their books may be much higher and deserve a thorough investigation in order to clean up our political and electoral system," the party has said in its response.
It has also alleged that while the Home Ministry "readily launched an investigation into AAP's finances on the pretext of pendency of the petition", no such probe or action was taken against major political parties, "despite clear cut evidence of taking foreign funding by them".
In its affidavit filed in the high court, the party has said, "As far as AAP is concerned, it takes donations online through its website, through cheques/drafts, or by cash. The website of AAP clearly states that as per Indian law, only people with Indian citizenship can donate to a political party. All those donating to AAP have to state they are Indian citizens and giving money out of their own earnings.
"For all donors who are not resident in India, they must give their valid Indian passport numbers before they can make a donation. All bank drafts without proper identification of donors are returned. Each donor is given a receipt of donation."
"The party has received about Rs 30.50 crore (approx.) amount of donation at the time of drafting this affidavit, out of which about Rs 8.50 crore(approx) amount is from NRIs. AAP has not taken any money which was not clearly marked for AAP.
"No amount was taken from the money collected during Anna Hazare movement, or funds collected in the name of India against Corruption," AAP has said.
It has also said that "despite trying its level best", the central government has not been able to find an iota of evidence that AAP has violated the foreign exchange laws and in support of this contention, it has also attached its reply given to the Centre's questionnaire on the party's funding sources.
Photograph: Reuters