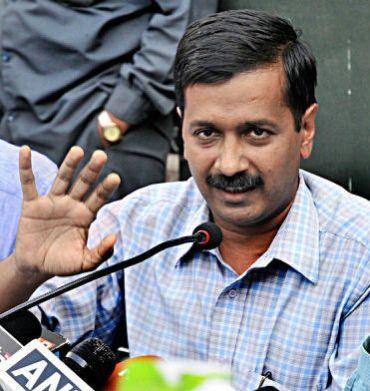 The Bharatiya Janata Party on Friday hit back at Arvind Kejriwal for his demand that Narendra Modi should make public his poll expenses, saying the Aam Aadmi Party leader should first divulge details of his party's funding by "foreign" donors.
BJP leader Venkaiah Naidu also said Kejriwal has no moral right to make such a demand as he took Congress support in forming a government in Delhi despite swearing upon his children.
"Here is the AAP leader who has ditched his mentor Anna Hazare, who had sworn by his children and made a U-turn about the Congress support and who is not divulging details about the money he receives from foreign countries," BJP spokesperson Prakash Javadekar said.
"Let him give his account to the Home ministry, because it is accusing him of not giving information. Let him give that first. He has no credibility left. He is indulging into sensationalism. I think people are fed up of his sensationalism," he said.
Naidu said Kejriwal "has no right to ask such a question to Modi as he supported the Congress and formed a government after seeking its support to become chief minister. He even swore on his children not to shake hands or take support from the Congress, whom he termed as corrupt and communal.
"Why did he write to Narendra Modi? We will reply to people, why to them? Why did they support the Congress? The manner he adopted in forming a government with the Congress, he lost his credibility. If people will ask, we will reply."
Javadekar asked, "What is the credibility of the one who is questioning Narendra Modi? Somebody who can swear by his children not to seek Congress support but takes it later?"
He said Modi has proved his credibility with years of sacrifice and struggle and governance and performance. In a letter to Modi, Kejriwal asked him to make the election expenses of the BJP public and also the people who fund the party's poll campaign.
Another BJP spokesperson Meenakshi Lekhi also attacked the AAP charging it with being close to Congress and saying it is losing out its credibility among people.
Charging Kejriwal with enacting "Save the Congress serial", she said the AAP chief is coming out with a new episode of that serial everyday and pointed to many of his actions that were taken to help Congress.
She said these included the first dharna that Kejriwal sat on January 20, the day when the post-mortem report of Sunanda Pushkar saying she died of poisoning was out, to help the Congress so that it causes no embarrassment to the party.
"Kejriwal has come across as somebody who is not willing to stand by his responsibility. There is a clear understanding between 10 Janpath and Mr Kejriwal. The understanding is so evident that everytime he will spit and run away, that is the kind of politics he is playing," Lekhi said.