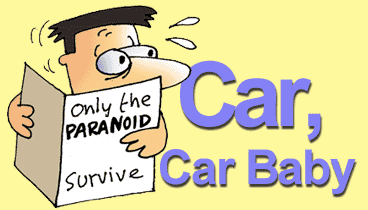 My husband Sandeep is the paranoid kind. In fact, one of his favourite reads is Only The Paranoid Survive by Andrew S Grove.
Sandeep is paranoid about his work, about his tennis classes in the morning, about the fact that he does not have enough time to read these days, about how much and what he eats, about the maid not coming to work regularly…
What he is most paranoid about, however, his latest passion -- his brand new car.
We work in the same office. Once we reach work, Sandeep parks his car in front of the main gate so he can keep a watch on it from our office's large windows. He then covers the car gently, securely tying in stray corners, before we finally make it to the first floor where we work.
Every half hour, you will spot Sandeep at the window, checking if the car's cover is still secure, checking out the people standing near the car, checking to see if, horror of horrors, someone has managed to scratch the paint… He'll even make frequent trips downstairs to make sure his baby is comfortable and safe.
I don't mind all that. What I do mind is Sandeep making me do all this as well. Every hour or so, he'll ask me to go and check if the car is safe. Then, he'll get paranoid about the fact that I have to cross the road to do so.
Yesterday, a strong breeze decided to play with the car's cover. Before the watchman could warn Sandeep that his car was exposed to the elements, someone had managed to scratch its gleaming paint.
Sandeep now stands at the window at 15 minute intervals and goes downstairs every half an hour for a closer look at his precious car.
Devyani Chandwadkar, Mumbai
A flighty imagination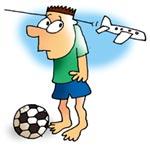 Our exams were on and we were sure we would be asked to write an essay on a football match in our Hindi literature paper. All of us prepared religiously for the essay.
Much to our shock, we were instead asked to write an essay on our first journey in an aeroplane. No one even attempted to answer that question. We were from rural India and none of us ever travelled by plane. In fact, we had only watched an occasional airplane winging its way across the sky.
After the paper, the entire discussion centred around this unexpected question.
Amaresh, however, looked quite pleased with himself.
Why are you so happy, we asked him, did you manage to answer all the questions?
"Yes," he replied happily.
We were stunned.
Amaresh explained, "I began describing my first journey from Patna to Delhi. I said we had just taken off from Patna when the pilot announced they were facing technical problems and had to land in a nearby field. A football match was taking place there. Then I described the match. By the time the match was over, the technician had fixed the technical problems and we took off for Delhi on my first air trip."
Amazing presence of mind, that!
Avijit Kumar, Bishnugarh, Hazaribagh
An email opener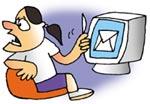 In our home, we have placed a little tray near the door where letters that come by courier are deposited; more mail comes by courier than through the postman these days.
My elder daughter, who is nine, has started a stamp collection. But its growth, thanks to the courier business, is depressingly sluggish. My four year old has never seen an inland postcard and has only once or twice seen a postcard or an inland letter. For both my daughters, mail means e-mail.
The other day, my younger child was sitting on my desk sorting through the pens and pencils and she fished out a letter opener. She looked at it with some reverence and told me, " Mama, I am going to use this to open my e-mails."
Zelda Pande, Mumbai
Monday morning blues

It was a normal Monday morning... at least, as normal as Monday mornings can possibly be. I got out of the house in time to catch the lift before it halted on every floor other than ours. I was determined to make it to work on time.
Just then, the electricity decided to play hookey. And I found myself stuck between the seventh and the sixth floor. Both the liftman and the housekeeping man turned to look at me with a you-are-a-woman-so-why-aren't-you-panicking-yet look.
I hate disappointing people, so I grimaced a little, looked at my watch and muttered, "I'm going to miss my train." I guess that was not panicky enough; they seemed rather disappointed.
I was armed with a novel and a bottle of water, so I settled into a corner and prepared to while away the hours. The liftman punched a number of buttons while the housekeeper banged the door and tried various other ways to get it open. Though this didn't get them anywhere, it did keep them occupied.

A while later, the door finally opened. We had to jump a foot to the floor below before we went our separate ways.

We had been stuck in the lift for seven whole minutes; just enough for me to miss my regular train and the one after that as well.

Mondays are bad. Plain. Normal. Bad.
Uma Iyer, Mumbai
Illustrations: Uttam Ghosh
Also in this series:
Of red BMWs and silver Jaguars
No booze, Gods on the premises