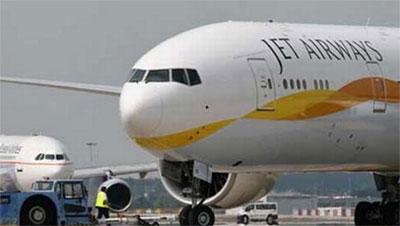 Aviation regulator the Directorate General of Civil Aviation on Tuesday suspended the flying licence of two former Jet Airways pilots for five years, who were involved in a mid-air brawl on its London-Mumbai flight early this month.
The pilots' flying privileges have been withdrawn for leaving the cockpit unattended and thereby jeopardising flight safety, a senior DGCA official said on Tuesday.
During the suspension period, the two pilots will not be eligible to fly with any airlines.
Jet Airways has already terminated the services of both pilots following the incident, in which the male co-pilot allegedly slapped the fellow women commander inside the cockpit after he got into a physical fight with her.
"Keeping in view serious lapses endangering the safety of aircraft operations, DGCA has suspended the privileges of license of both the involved pilots for a period of five years," the official said.
"The commander came out of the cockpit about one hour before touchdown complaining of being physically harassed by the co-pilot. Soon after, the co-pilot also came out, leaving the cockpit unattended thereby jeopardising the safety of aircraft operations," he added.
Jet Airways had, however, at that time, dismissed the fight as a "misunderstanding" between the crew.
"A misunderstanding occurred between the cockpit crew of 9W119 London-Mumbai flight on January 1. However, the same was quickly resolved amicably and the flight with 324 guests including two infants and 14 crew members completed its journey in Mumbai safely," a Jet Airways spokesperson had said. It had also said that the two pilots had been grounded pending investigation.
However, on January 8, the airline reviewed its decision and decided to terminate the services of both pilots.