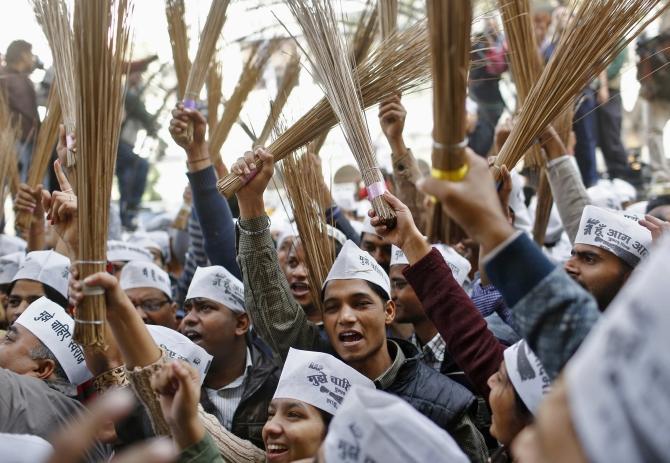 Over 920 candidates are in the fray for the February 7 big-ticket Delhi Assembly elections which include BJP's chief ministerial nominee Kiran Bedi, Aam Aadmi Party chief Arvind Kejriwal and Congress leader Ajay Maken, who filed their nominations on Wednesday.
While Bedi will contest from Bharatiya Janata Party stronghold of Krishna Nagar in east Delhi, Kejriwal will seek re-election from the prestigious New Delhi constituency where he had defeated three-time chief minister Sheila Dikshit by a record over 22,000 votes last time.
"Nine hundred and twenty three and candidates, including independents, have filed their nomination papers for the upcoming assembly elections," said a senior official at the Delhi chief electoral cfficer's office.
While the total number of nominations filed was 1404, over 250 independents also filed their nominations. Some of them filed more than one nomination. Meanwhile, the official said a total of 117 first information reports has been lodged against different political parties till January 20 for violation of the Model Code of Conduct, which came into force on January 12.
"Out of the 117 FIRs, 52 have been registered against the AAP while 22 have been lodged against the BJP. Twenty-six and 10 FIRs were lodged against Congress and the Bahujan Samaj Party, respectively," the official said.
Until Tuesday, a total 10,569 persons have been booked under various sections of the CrPC/Delhi Police Act, and as preventive measures 110 licensed arms were deposited, 11
unlicensed arm and 1039 cartridges were seized, he said.
The maximum of 23 candidates have filed their nomination papers for the New Delhi assembly seat, from where Kejriwal is contesting the elections. Apart from Bedi, 13 candidates have filed their nomination papers from Krishna Nagar constituency, while 16
candidates, including Maken, will be fighting the polls from Sadar Bazar constituency.
Besides, 22 candidates have filed their nominations from Buarari, followed by Nangloi (21 candidates), Sangam Vihar (19), Matia Mahal (19). Only six candidates have filed their nomination papers for the Ambedkar Nagar seat.'