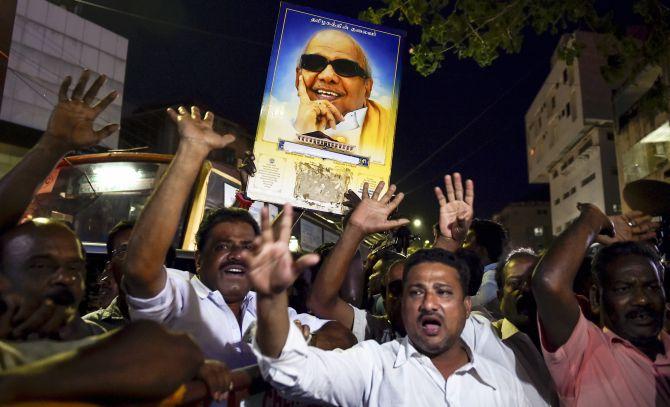 The condition of ailing Dravida Munnetra Kazhagam patriarch M Karunanidhi has 'declined' and keeping his vital organs functioning remains a 'challenge', Kauvery Hospital said on Monday, indicating the next 24 hours could be crucial.
The 94-year old former Tamil Nadu chief minister was under continuous monitoring and treated with active medical support, a press release issued by the hospital said.
'There has been a decline in the medical condition of DMK president and former Chief Minister M Karunanidhi. Maintaining his vital organ functions continues to remain a challenge considering his age related ailments,' it said.
'His response to the medical interventions over the next 24 hours will determine the prognosis,' Executive Director of the Hospital Dr Aravindan Selvaraj said in the terse two-paragraph release.
Soon after the news of a decline in Karunanidhi's condition spread, hundreds of his supporters gathered outside the hospital, including a large number of women, some failing to control their tears, others waving at the TV cameras, preparing for an overnight vigil at the facility in downtown Alwarpet.
Karunanidhi was admitted to the intensive care unit of the hospital on July 28 following a dip in his blood pressure, which stabilised after medical intervention.
The hospital, however, had on July 31 said an extended period of hospitalisation will be necessary due to age related overall decline in his general health, altered liver function and haematological parameters.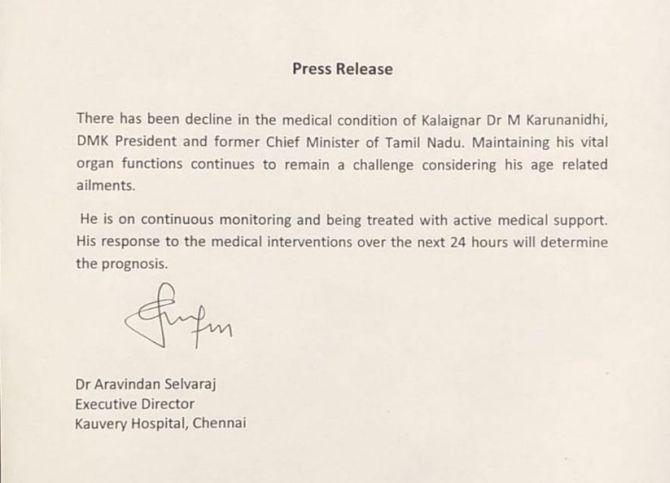 Since then he continues to be monitored by a team of specialists.
A host of dignitaries and leaders, including President Ram Nath Kovind Vice-President Venkaiah Naidu and Congress president Rahul Gandhi, had visited the hospital and enquired about the veteran's health.
For the first time since his hospitalisation, the DMK patriarch's wife Dayalu Ammal visited him earlier in the day on Monday.
Wheel-chair bound, she arrived in a vehicle usually used by Karunanidhi. For quite sometime, she is not keeping well due to age related issues.
Tamil Nadu Congress Committee chief Su Thirunavukkarasar too visted the hospital and after meeting the DMK president's family members told reporters that there was a 'slight decline in his health this (Monday) morning'.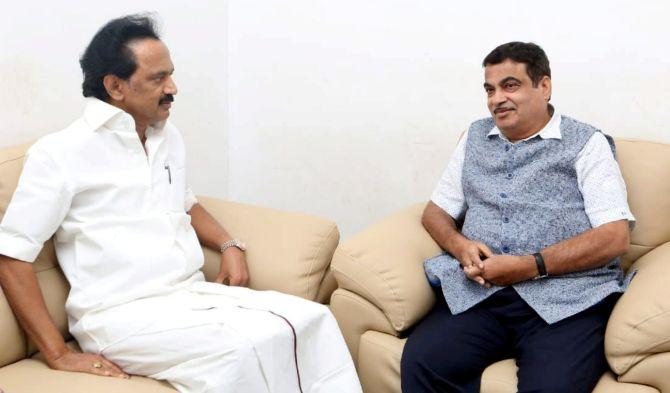 Later in the night, Union Minister Nitin Gadkari visited the hospital and enquired about the health of Karunanidhi.
Gadkari was received by former Union Minister A Raja, after which he met Stalin and other family members.
The Union Minister is scheduled to participate in an event in Chennai on Tuesday.